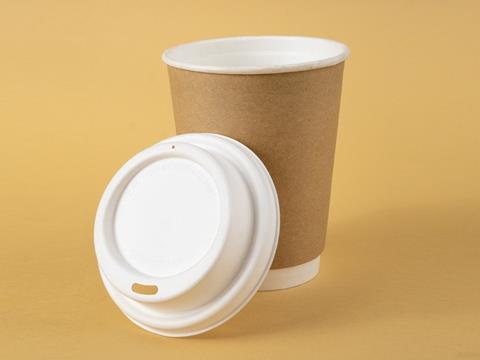 Zume has announced the European launch of its moulded fibre snap-fit coffee lids that are reportedly compostable and 100% PFAS-free without compromising on performance.
According to Zume, food brands typically choose plastic lids for coffee cups because they are cheap, convenient, and can withstand hot beverages; sustainable alternatives apparently fail to offer the same features. Only 0.25% of plastic coffee cups and lids are recycled in the UK, the company adds.
Zume's formed fibre coffee lids are aimed at providing a solution at the scale needed to eliminate single-use plastic lids in Europe. The lids are reportedly developed from mouldable fibres such as bagasse (sugarcane fibre), bamboo, wheat, straw, and blends of various grass fibres.
In addition, Zume says that its formed fibre lids are snappable and leak-proof. The lids have apparently undergone rigorous testing and quality control processes to ensure they perform as consumers expect, and are also FDA approved for food contact.
According to Zume, the lids are compostable as certified by ASTM International and do not contain PFAS, so-called 'forever chemicals' that do not readily break down because of their strong bonds, leading to potential damage to the environment and human health.
Alex Garden, CEO of Zume, comments: "As brands, we have a responsibility to prioritize our environmental impact the way we do our bottom lines; through our sustainable coffee lids, food brands can now do both.
"Our moulded fibre lids have the same premium feel and functionality that coffee drinkers expect and show what's possible when you combine a sustainable mindset with world-class engineering and product design at a price that makes it a cost-effective alternative to plastic."
The new lids will initially roll out in the UK, Germany, the Netherlands, Luxembourg, Belgium, Scandinavia, France, Italy, and Spain, with more countries to be announced later this year. The lids are available in two sizes, 80mm and 90mm.
Last year, Zume partnered with ABB Robotics with the aim to scale and automate the production of its moulded fibre packaging. The companies say that the manufacturing cells they have developed could potentially process 71,00 tonnes of agricultural material annually, with the potential to produce up to two billion pieces of packaging a year.