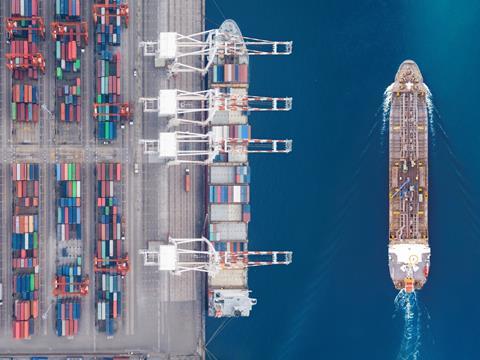 Gartner, Inc. has announced the results of its annual Global Supply Chain Top 25, with technology solutions company Cisco Systems maintaining the top ranking for the third year in a row while consumer goods companies Colgate-Palmolive, Johnson & Johnson, PepsiCo, and Nestlé all made it into the Top 10. Sustainability initiatives and adapting to global supply chain challenges remain a priority for the companies ranked by Gartner.
A focus on ESG across company types
Each company's supply chain is given a composite score based on weighted factors: Peer Opinion (25%), Gartner Research Opinion (25%), ROPA (15%), Inventory Turns (5%), Revenue Growth (10%) and ESG Component Score (20%). For the third year in a row, Cisco Systems scored the highest composite score of 6.71.
Mike Griswold, vice president team manager with the Gartner Supply Chain practice, explains: "Cisco continues to adapt in various ways to the changing environment, and its supply chain moves in alignment.
"ESG is a big focus, with circular concepts incorporated in the design, operations and consumption aspect of the products and the supply chain."
According to Gartner, sustainability was on the agenda for a number of supply chains, with companies especially beginning to target Scope 3 emissions reductions. For technology companies like Cisco, as well as Lenovo (ranked 9th) and HP Inc. (ranked 15th), the focus has apparently been on redesigning broader business models away from periodic sales of discrete pieces of equipment, with a shift to service-based models that include the collection, recycling, and disposal of products at end-of-life.
Griswold adds: "Nineteen companies achieved the highest possible environmental, social and governance (ESG) score this year, reflecting the growing importance supply chain leaders assign to these initiatives.
"Companies such as Walmart, Microsoft and Unilever have formal programs in place to track the status of supplier reduction projects and quantify the resulting reductions over time."
Consumer goods supply chains make the cut
A number of major consumer goods companies made the list: Colgate-Palmolive (3rd), Johnson & Johnson (4th), PepsiCo (5th), Nestlé (8th), L'Oréal (11th), The Coca-Cola Company (12th), Walmart (14th), and Diageo (16th).
Gartner also has a 'Masters' category, first introduced in 2015, that recognizes sustained supply chain excellence. According to Gartner, companies must attain top-five composite scores for at least seven out of the 10 categories to be considered a 'Master'.
Gartner says that all of last year's 'Masters' qualified for the category again this year. This includes Amazon, Apple, P&G, McDonald's, and Unilever.
According to Griswold: "All of the Masters provide prime examples of how to deliver agility and responsiveness at scale for sustained periods of time. Other chief supply chain officers (CSCOs) can look to them and the other organizations in the ranking to learn their best practices."
Like the other companies listed by Gartner, sustainability is a key focus in the consumer goods segment. PepsiCo, for example, has pledged to cut Scope 3 emissions by 40% by 2030 compared to its 2015 baseline, alongside a 75% reduction across its direct operations. Meanwhile, P&G, from the 'Masters' category, is planning to reach net-zero greenhouse gas emissions across its supply chain by 2040, with the company highlighting the need for collaboration to better manage Scope 3 emissions.
With collaboration in mind, Walmart recently launched the Circular Connector, an online tool aimed at bridging the gap between companies looking for more sustainable packaging solutions and companies that supply them. Additionally, Walmart – along with fellow Gartner-ranked companies, Colgate-Palmolive, Nestlé, PepsiCo, P&G, and Unilever – is a member of the Consumer Goods Forum (CGF), which aims to unite the value chain in initiatives to improve the recyclability of packaging and facilitate a circular economy.
Gartner explains that CSCOs have become drivers of new business models, sustainability efforts, and commercial innovation in recent years. Supply chain leaders are reportedly looking beyond their own company to create a competition-based ecosystem for addressing larger-scale challenges, such as emissions and difficult-to-recycle plastics.
Griswold says: "For example, many consumer goods companies in the ranking are joining forces through the Consumer Goods Forum to set the agenda for the development of new plastic recycling technologies. This form of cooperation is an effective way to address the environmental crisis."
Interestingly, outside of the consumer goods category, major pharmaceutical companies Pfizer and AstraZeneca ranked 6th and 22nd in Gartner's Top 25 respectively. AstraZeneca joined the list for the first time this year, Gartner notes. These companies have both played an essential role in the global rollout of the COVID-19 vaccine, demonstrating how supply chains can adapt in the face of more unpredictable challenges like a global pandemic in addition to the climate crisis.
Stabilizing supply chains
Supply chains have undergone a series of destabilizing challenges in the last few years, with the economic slowdown associated with the COVID-19 pandemic followed by a significant rebound creating what many have called a "perfect storm". Therefore, companies have had to contend with ongoing backlogs in ports, a shortage of shipping containers, escalating lead times, raw material shortages, and rising costs.
Gartner claims that many leading supply chains have transformed their decision-making processes and funding to become more agile and adapt to these challenges. For example, some companies have apparently assigned temporary transformation teams to address near-term business challenges, with the intention of returning them to day-to-day work once the environment has stabilized.
According to Gartner, the ability to react quickly is key and often driven by adaptive funding techniques based on venture capital models. These allow for flexibility in terms of transformation budgets, with successful pilots used to justify greater scale or to understand when more resources are needed elsewhere, Gartner explains.
Another important supply chain trend is digitalization and automation. For supply chain managers, Gartner identifies the need to balance long-term investments in automation with immediate investments in technologies that reduce the cognitive load on employees while prioritizing time and attention to tasks where people perform better than machines. This may also involve a more hybrid approach with the introduction of cobots, which can apparently increase productivity.
Griswold concludes: "To prepare their employees for the future, leaders are prioritizing programs that train digital literacy and dexterity. These educational and applied learning programs enable employees to use data-driven analytics for more informed decision making in their roles."