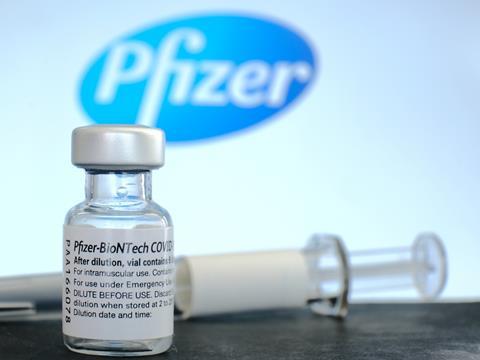 The COVID-19 vaccination programme represents the largest rollout of any vaccine in history. Since the first vaccine against COVID-19 was administered in December 2020, over 6.9 billion doses are estimated to have been dispensed globally.
Behind every COVID-19 vaccine is a complex supply chain – and at every step of the distribution process, packaging has played a key role in the safe and secure delivery of vaccines for pharmaceutical giants including Pfizer, AstraZeneca, and Moderna, among others.
Since the outbreak of the pandemic, Packaging Europe has reported on the challenges and opportunities COVID-19 has posed for the packaging industry. Now almost two years on, we look back at the essential role of packaging in the rollout of the COVID-19 vaccine as the world attempts to turn the tide on the pandemic, as well as what challenges still lie ahead.
Primary packaging: the importance of a head start
For any vaccine, a glass vial is one of the most significant pieces of packaging – it cannot be transported, stored, or administered without it. "Having more people recognising that the primary packaging is an integral part of the drug product was rewarding and challenging at the same time," says Jörg Döscher, VP of strategic marketing and innovation, and Fabian Stöcker, VP of global strategy and innovation, both at the glassmaking company SCHOTT.
For SCHOTT, one such reward was seeing its existing primary packaging technologies hit the ground running when the COVID-19 vaccination programme began. Invented over one hundred years ago, SCHOTT's FIOLAX borosilicate glass tubing provides the basis for many of the vials used to store vaccines against COVID-19. One of its key properties is its ability to withstand temperatures as low as -200oC, meaning SCHOTT had no problem responding to the cold chain requirements of COVID-19 vaccines. For example, Pfizer BioNTech, currently the most widely used vaccine, must be stored in a freezer between temperatures of -60oC to -80oC.
The sheer scale and urgency of the COVID-19 response, however, was likely to pose a challenge to even the most experienced suppliers of primary packaging. According to Döscher and Stöcker, "the main difference with responding to the pandemic is the starting point of commercial production", which again provided challenges and opportunities. SCHOTT made the decision to produce vials while phase III clinical trials for COVID-19 vaccines – during which efficacy is tested on a large group of volunteer participants so that data can be submitted for approval – were still taking place, so that it would have "sufficient volumes at hand" as soon as authorisation was granted.
This approach was not without risks. In early 2020, SCHOTT and other glassmaking companies were declining offers from pharmaceutical companies in the nascent stages of vaccine development in case orders could not be filled later on, and so as not to withhold vials from other, guaranteed applications. After all, Döscher and Stöcker note that SCHOTT was mass producing 2 to 10ml vials, which COVID-19 vaccines were initially stored in, "in the range of millions of pieces" per day before the pandemic. However, SCHOTT ultimately relied on its "tried-and-true" borosilicate tubing to anticipate demand just before the market reflected it. This strategy appears to have paid off. The company's "supply chain processes have proven fast and reliable even during pandemic times," says Döscher and Stöcker.
But putting out the call to increase the manufacturing capacity of primary packaging is not the end of the story. While glass vials are designed to withstand cracks and scratches, how would they cope with production lines operating at an unprecedented scale as more and more vaccines were granted approval? Corning, another glassmaking company actively involved in the COVID-19 rollout, has developed a glass vial designed to address the issue of jams on fast-moving vaccine assembly lines that can occur when friction is created on the surface of borosilicate vials. Another pre-pandemic innovation, Corning's Valor Glass has been in development since 2011 but proved invaluable for the COVID-19 vaccine rollout.
Corning's Valor Glass solution is made from aluminosilicate, which is apparently ten times stronger than conventional borosilicate vials. The reduced friction properties of Valor Glasss means that vials are able slide past each other at high speeds on automated lines without sustaining damage, potentially doubling the pace of production. In recognition of Valor Glass's potential in the COVID-19 vaccination programme, Corning was granted an initial investment of $204 million to scale production by the US government, and has been one of the key suppliers to Pfizer throughout the Pfizer BioNTech rollout.
The dynamic research, development and production processes from SCHOTT and Corning at the start of the vaccine value chain – sometimes even before the need for a particular vaccine has emerged, as was the case for COVID-19 – demonstrates primary packaging's essential role in stabilising and securing the entire distribution process.
A holistic approach in the race to ensure vaccine security
The next step: delivering the COVID-19 vaccine. Once a vaccine begins its distribution journey, the role of primary, secondary and tertiary packaging is put to the test in situ, and providing a safe and secure product relies on collaboration between each layer of protection.
At the level of primary packaging, efficiency and product stability are not the only design consideration; security solutions built into primary packaging are essential to protect patients during the rollout of COVID-19 vaccines. While Gavi, the Vaccine Alliance, says there have not yet been cases of people being physically harmed by fake COVID-19 vaccines, this continues to be a key monitoring point due to the pre-existing, lucrative market for counterfeit pharmaceuticals and the health consequences connected to other false pharmaceutical products.
Anti-counterfeiting technologies are set to see an increase in profit in 2021 due to the COVID-19 vaccine rollout, with Smithers identifying speciality inks as a specific area of growth. Both SCHOTT and Corning are deploying this technology already, print-marking primary packaging with ink that contains light-emitting particles that are only visible using a specialised reader. This enables vaccines to be verified before administration, so that they can be given to patients with confidence.
On this note, even when a verification process has been undertaken at the point of use, this does not necessarily represent the end of security risks for companies and patients. There have been reports of legitimate vaccine packaging being sold online from places like the USA and Israel, where the vaccine rollout has been more extensive than other regions. After purchase, these vials are suspected to have been used for fake vaccinations, often containing saline, for which counterfeiters charge those desperate to access the COVID-19 vaccine. SCHOTT's cyclic olefin copolymer (COC) syringes for administering vaccines have a functional label and prefillable option that offers tamper-evident features. Döscher and Stöcker say this can "prevent the re-use of a container", which is one example of how primary packaging can be made more secure throughout its life cycle in response to challenges like the grey and black markets for pharmaceuticals.
It is worth noting that vaccine security concerns frequently arise during transport and storage, which is where secondary and tertiary packaging enters the picture. In particular, temperature is measured stringently across the vaccine distribution process as one missed reading can require pharmaceutical companies to recall an entire batch. With pharmaceutical companies under scrutiny from governments, organisations, and the general public during the COVID-19 vaccine rollout, the destruction of batches for safety reasons, while sometimes necessary, is unlikely to be well-received.
For the digital security company Digi, the COVID-19 pandemic required a shift in "focus to providing healthcare workers with the tools they need to monitor the status of critical vaccines while in transport," according to director of sales, Josh Griggs. This includes SmartSense, a "purpose-built, cloud-based temperature-monitoring" solution that – for applications like the Pfizer BioNTech vaccine – offers "an extended-range probe with the ability to monitor temperatures as low as -385oF". The SmartSense portfolio includes different monitoring devices that can be attached to secondary packaging, like pallets, or tertiary packaging such as shipping containers. Calibrated by the National Institute of Standards and Technology (NIST), the sensor keeps companies appraised of temperature throughout the vaccine distribution process using an integrated online system and issues alerts by phone, email, and SMS in the case of variations.
One of the key components of the SmartSense solution is its flexibility. It can be used in partnership with other packaging innovations, such as Softbox's reusable parcel shipper for ultra-low temperature applications, which Pfizer has deployed in its rollout of the BioNTech vaccine. There is less room for flexibility in primary packaging, especially when it is in direct contact with incredibly sensitive products like COVID-19 vaccines. A key learning point of COVID-19, says Griggs, is being "agile in its support of the supply chain", and SmartSense achieves an essential adaptability by following rather than leading storage and transport standards. Secondary and tertiary packaging solutions appear to have, so far, worked effectively in tandem with the more rigid requirements of primary packaging to secure the vaccine rollout – showing a holistic approach from the packaging industry can rise to a challenge as unpredictable and novel as COVID-19.
Is the finish line actually in sight?
Perhaps one of the greatest challenges for the COVID-19 vaccine rollout, going forward, is availability. This is not only in terms of producing enough vaccines – a challenge in itself – but also ensuring equitable access globally. The availability of COVID-19 vaccines is undoubtedly split along political lines. In a report published earlier this month, the World Health Organisation (WHO) emphasised that its September deadline for 10% COVID-19 vaccine coverage was not met by the populations of 56 countries, leading the organisation to urgently re-structure its COVAX scheme to address what it is calling a "two-track pandemic" where richer countries are hoarding vaccine supplies at the expense of the rest of the world.
Packaging has an important role to play in democratising the future of the COVID-19 vaccine rollout and helping to meet the WHO target of 70% vaccine coverage globally by mid-2022. Availability is intrinsically linked to safety and security, and vice versa – it is lack of availability, for example, that opens the door for counterfeiting.
While SCHOTT and Corning were able to meet the cold chain requirements of COVID-19 vaccines with primary packaging, this does not always mean that effective secondary and tertiary storage is in place to receive it, especially in economically marginalised and geographically remote regions. Packaging innovations such as Kuehne+Nagle's Temperature Pod, a shipping container-sized refrigerator that utilises a compressor system to keep vaccines at the right temperature at point of use and is able to be opened for a limited time period twice a day, can provide a storage solution for countries where there is little or no existing cold chain infrastructure. As COVAX refocuses, refrigerated solutions have been essential to delivering vaccines to countries such as Sudan and Burkina Faso.
From a securitisation perspective, there are future opportunities for the packaging industry to lend its expertise to ease challenges exacerbated by the urgency of COVID-19, such as distribution in countries that do not have existing serialisation programmes for pharmaceutical products like vaccines. UNICEF is in the tender stage of development for the Global Trust Repository (GTR), a blockchain-based security system to provide standardised monitoring of vaccine distribution for countries participating in COVAX. With the packaging industry already pushing a number of traceability innovations using blockchain – for the pharmaceuticals segment and beyond – this is certainly an area to stay appraised of as the COVID-19 vaccine rollout continues.
Finally, the COVID-19 vaccine rollout is not immune to the supply chain crisis currently impacting industries across the world. On the COVAX Marketplace, where vaccine equipment can be exchanged between participating members, vials have been identified as at-risk of shortages and are a priority item. According to Döscher and Stöcker, SCHOTT are enhancing solutions like ready-to-use vials that make the fill-and-finish process more efficient for pharmaceutical companies, as well as evaluating the possibility of prefillable syringes for COVID-19 vaccines – which SCHOTT is "foreseeing a shift towards" going forward. This suggests that packaging players are preparing to tackle the bottlenecks emerging in the vaccine value chain, although issues of supply for a number of raw materials may still impede best efforts from convertors and manufacturers.
While the global supply chain crisis is a worrying development in the COVID-19 vaccine rollout, it is important that companies and governments do not take speculative measures in response to perceived or actual shortages, such as stockpiling. It is clear already that countries like the USA and UK hoarding COVID-19 vaccine supplies have pushed the finish line of the rollout – whatever this may look like – further and further back. The future of the COVID-19 vaccination programme is difficult to predict, but packaging innovations have been instrumental in its early successes; the packaging industry still has a key role to play in expanding the availability of safe and secure vaccines in the regions that need it most.