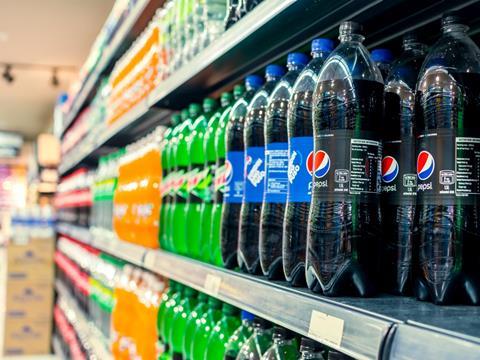 PepsiCo has selected innovations from six start-ups – including an invisible 'marker' system for tracking packaging waste that can be logged with blockchain technology and a bio-based thermoplastic material made from unsorted household waste – to trial in a bid to enhance sustainability across its supply chain with digital solutions.
PepsiCo Labs is the technology venturing arm of PepsiCo, which aims to identify and collaborate with breakthrough start-up companies in order to drive business growth and efficiency via digital solutions. As part of the PepsiCo Labs initiative, the company has identified six start-up companies as part of an outreach programme focused on engaging with emerging technologies.
PepsiCo will collaborate on pilot projects across Europe with the start-ups, which will focus on four key areas: energy and automation, sustainable cleaning & hygiene technology, recycling, and water recovery. Once the results of the trials have been analysed, PepsiCo says it is aiming to scale the successful technologies across the supply chain during 2023 and beyond.
In the efficiency and automation category, Pulse Industrial and BrenPower monitors will reportedly be used to detect failures in steam traps through an artificial intelligence (AI) system with the trial set to take place in Turkey. PepsiCo says that the technology could help to reduce steam losses in its factories, which could in turn improve overall efficiency and reduce carbon impact.
In Portugal, PepsiCo will collaborate with Ozo Innovations, which apparently harnesses advanced electrochemical technology to improve hygiene in manufacturing plants. PepsiCo claims that Ozo's 'elocube' converts cold water and salt into a powerful combined cleaning and disinfecting solution via electrolysis, with the potential to create a cleaning process that reduces chemical, water, and energy usage.
As for recycling start-ups, PepsiCo has selected UBQ Materials' patented conversion process, which reportedly turns unsorted household waste, including all organics and unrecyclable plastics, into a bio-based thermoplastic. PepsiCo claims it will trial this new material in Lay's display stands throughout Turkey.
Security Matters, which has developed an invisible 'marker' system that apparently enables both physical and digital tracking to identify, track, and sort packaging waste, has also been selected by PepsiCo. The company says that this solution allows packaging waste to be logged onto a blockchain solution and will be trialled to help track closed loop recycling, authenticate sustainability claims, and improve waste sorting.
PepsiCo adds that, in Belgium, it will launch a trial with Elateq, a provider of electrochemical wastewater treatment that allegedly removes pathogenic, organic, and inorganic contaminants from water while using less energy. The company claims that, if successful, this technology could reduce the overall carbon footprint of PepsiCo factories and promote a circular water system.
Katharina Stenholm, chief sustainability officer at PepsiCo Europe, comments: "At PepsiCo, we believe in the value of harnessing a digital future to accelerate positive change for our people and planet. We recognise that we have a responsibility to use our resources efficiently and reduce our overall emissions, but we can't do it alone.
"By embracing smart collaborations through PepsiCo Labs, we can unlock breakthrough solutions, and play our part in scaling technology innovations. It's part of our commitment to solving sustainability challenges across our supply chain, and progressing PepsiCo Positive."
David Schwartz, VP of PepsiCo Labs, adds: "PepsiCo Labs was launched to propel PepsiCo into the future. We aspire to lead in tech innovations by integrating start-up solutions at a global scale.
"It is a privilege to collaborate with six exciting, innovative start-ups, as they pilot ground-breaking technologies and develop new solutions that aim to solve the sustainability challenges the world faces.
"We hope that by working together we can accelerate the growth of these promising start-ups, whilst putting sustainability and innovation at the heart of our own business."
PepsiCo is aiming to reduce Scope 1 and 2 emissions by 75% by 2030, with the ultimate target of achieving net-zero emissions by 2040. Earlier this year, the company also announced plans to use 100% recycled or renewable plastic in all of its crisp packets by 2030.