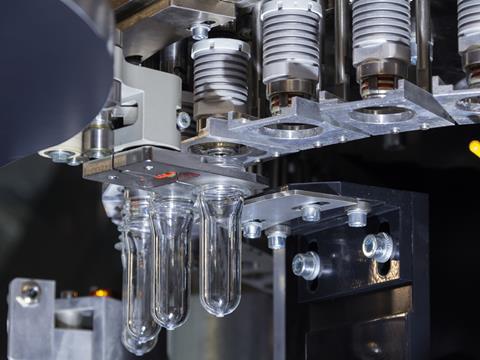 In collaboration with the Consumer Goods Forum, a cross-value chain group of major brand owners, recyclers and plastics associations are working on a set of 'golden rules' for sustainable packaging design. Ignacio Gavilan, director of Sustainability at The Consumer Goods Forum and Kitty Parker Brooks, SYSTEMIQ Associate and Project Manager for CGF Plastic Waste Coalition of Action, tell us more about the project.
Plastics are once again in the headlines after the United Nations Environmental Assembly (UNEA) announced this month that they have agreed to negotiate a legally binding global plastic treaty heralded as "the most significant environmental deal since the Paris climate accord".
Packaging design is crucial for reducing unnecessary packaging and ensuring that plastic packaging is suitable for reuse or recycling at the end of its life. It is highlighted as a key priority in the draft resolution from UNEA. After a proliferation of technical design guidelines in recent years, convergence on globally coherent design principles is now critically needed to enable a circular plastics economy.
In line with this need, and in response to the New Plastics Economy Global Commitment, led by The Ellen MacArthur Foundation in collaboration with the UN Environment Programme, The Consumer Goods Forum (CGF) has developed "Golden Design Rules" covering the vast majority of all plastic packaging.
How did this come together? Forty retailers, consumer brands, and convertors are working together in the CGF Plastic Waste Coalition of Action to drive industry action on key topics that support the acceleration of the New Plastics Economy, including extended producer responsibility policies and new recycling technologies.
The design workstream, co-led by Nestlé and Walmart, worked with industry experts, recyclers and plastics associations from over 25 countries to develop the Golden Design Rules. Thirty-three leading multi-national companies have now signed up to implement these rules across their plastic packaging portfolios by 2025.
The Golden Design Rules complement and amplify the years of high-quality technical work and stakeholder alignment that have taken place across industry platforms and within country-level discussions. These rules provide a simple and accessible entry point to help companies prioritise and deliver the most important design changes needed across their plastic packaging portfolio, drawing on technical guidelines and local advice.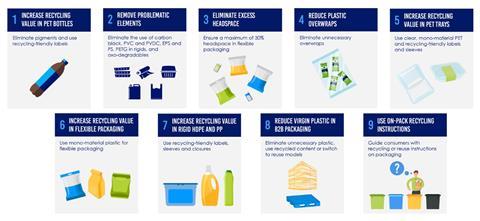 There are already great examples of packaging design shifts across the industry, in line with the Golden Design Rules. Following Golden Design Rule 6, 'increasing recycling value in flexible plastic packaging', and in partnership with Mars (both companies are CGF coalition members), Amcor developed breakthrough flexible packaging they call AmLite HeatFlex®.
This innovative design allows Mars' ready-to-heat rice pouches to retain their shape, long shelf-life, functionality and high safety standards whilst adding the benefit of being easier to recycle. These Polypropylene-based (PP) pouches can be easily recycled within plastic collection streams that already exist in several European countries, and are compatible with both mechanical and chemical recycling. Mars has accelerated the development of this innovation through rigorous testing in its production facilities in the UK, challenging what was previously considered possible throughout the testing and production process.
Beyond CGF member companies, there is also strong engagement with these Golden Design Rules from industry associations working at country level. For example, the Canadian Plastics Pact and the China Plastics Reuse and Recycle Association are leading the way in the implementation of the Golden Design Rules.
Having adopted the rules as the basis for their design standards, these two associations have adapted them to fit local technical requirements that are driven by legislation, recycling technology and sorting capabilities. This adaption of globally aligned Golden Rules accelerates the development of nationally relevant design guidelines so that companies, industry organisations, and policymakers can turn more quickly to action.
The CGF Golden Design Rules provide a playbook for implementing the vital design changes that we know are needed, so that, for the sake of the planet, we can tackle the increasingly urgent problem of plastic waste and accelerate the transition to a circular plastics economy.
If you want to find out more about the Golden Design Rules, or think they could be relevant to your organization, please contact us using this link and we will be able to provide more detail and answer any questions you may have.