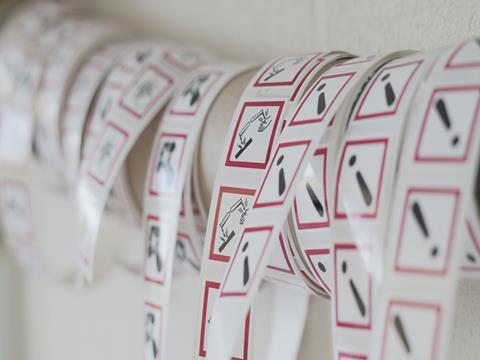 FINAT has written to the European Commission stating that the supply chain tensions and union strikes unfolding within the label industry could have ripple effects for the whole of Europe, including consumers. With lead times extending beyond five months, the organisation says essential downstream sectors like food and pharmaceuticals are likely to face significant disruptions and that an urgent response is needed from the EU to mitigate the crisis.
Last month, FINAT, the European association representing the label manufacturing industry, reported that self-adhesive labelstock demand has increased by 7% in 2021 – with the addendum that "the fortunes of the label industry have turned dramatically since the beginning of 2022".
While FINAT says it has been flagging supply chain issues in the self-adhesive label industry since last summer, the organisation believes this has been severely aggravated by union strikes at UPM mills in Finland, one of the largest suppliers of 'release papers', the backing material that serves as a carrier for labels until they have been applied to packaging. The strike commenced on the 1st of January 2022 and is now approaching the 100 days benchmark.
Union workers are striking over UPM's decision to retract its collective agreement, which they say undermines bargaining power and organised labour for employees at the company. Paperiliitto, the paper workers union, released a statement noting that its members will continue to strike on UPM premises until at least the end of April, "unless a negotiated outcome of a new collective agreement is reached before then".
According to FINAT, there is "no end in sight" to the strike. The organisation has reportedly made appeals to both UPM and the union workers to consider the ongoing and future impacts of the production shutdowns on the wider label industry, but these "have remained unanswered". FINAT raises a further grievance: in a recent meeting between UPM shareholders, there was allegedly no reference to the consequences of the strike beyond the "immediate parties concerned".
Now, FINAT warns the industry is reaching a potentially devastating tipping point as the impacts of supply chain tensions and strikes become evident. In a letter to the European Commission, published on Monday, FINAT claims lead times for self-adhesive label materials have increased to more than 5 months, compared to a few days under normal circumstances.
"Warehouses of label companies are getting empty, raw material prices are increasing exponentially and labelling companies are forced to prioritise deliveries," writes Jules Lejeune, managing director of FINAT, in the letter. "Meanwhile, many companies have been forced to lower capacity or even entirely shut down production, with all the devastating consequences for their staff members, and in spite of booming demand since the economic recovery in 2021."
FINAT emphasises the importance of labels as an "essential enabler" for the supply of goods and services across a range of sectors, warning that "without labels and labelling technology, supply chains can be severely distorted". In addition, the organisation says that there is not enough time to replace labels with alternative product decoration or identification technology to alleviate some of these consequences. This echoes an earlier statement from FINAT: even if the strike ended now, lead times have extended beyond Summer 2022 and it would also take a few weeks to re-start paper mills.
Lejeune writes: "We therefore anticipate that in Q2 we will see severe disruptions in downstream industries like food and pharma. If products going into the stores or home deliveries cannot be labelled, this will have dramatic impact on households, at the time when a humanitarian disaster is unfolding in Europe due to the war in Ukraine."
FINAT goes on to appeal for the intervention of the European Commission. Acknowledging that it is not usually within the remit of a European umbrella organisation to involve itself in individual labour disputes, FINAT nonetheless argues that the "impending crisis" will be far-reaching and thus requires immediate attention.
According to Lejeune: "This strike is no longer a Finnish labour dispute. The upcoming supply chain disruptions are no longer a national issue. These issues have a pan-European dimension that demands a European answer on short notice."
FINAT is not the only industry association to have appealed to the EU in recent weeks. Cepi, the European paper industry association, recently wrote to the European Commission calling for the paper and pulp sectors to be recognised as essential suppliers in light of escalating energy prices, partially as a result of Russia's invasion of Ukraine. The organisation says that becoming eligible for state aid and preferential gas deliveries will be necessary to "keep the lights on", as its paper mills – much like those referenced by FINAT – have begun to slow or stop production.
The war in Ukraine is likely to exacerbate pressure on the label industry and adjacent, connected industries and sectors. Wood harvests, for example, are set to undergo significant changes in the coming years, according to Wood Resources International. The European Federation of Wooden Pallet & Packaging Manufacturers (FEFPEB) has warned that supply pressures could be felt as soon as the next couple of weeks.
FINAT's members may therefore have to contend with a further tightening in the supply of raw materials, although it remains difficult to predict exactly how the war in Ukraine will impact Europe's packaging industries going forward. It seems likely, however, that the consequences of Russia's war in Ukraine will be far-reaching, with packaging companies and organisations continuing to keep next steps under review.
At the conclusion of its letter, FINAT refers to the label industry's current crisis as "a valuable yet very costly lesson about policies necessary to shield the European consumers and societies from such disruptions". Lejeune has previously highlighted improving cross-sector dialogue, supply chain management, and public policy as the key learning points the label industry should take from the current situation.
Labelexpo Europe 2022 trade fair – where more than 600 exhibitors and almost 40,000 visitors were expected to meet – has been cancelled and rescheduled for 2023 because of the label industry's ongoing supply and labour challenges. FINAT hopes that its European Label Forum, which will take place in June 2022, might allow the industry to "plant the seeds for such dialogue," in Lejeune's own words.