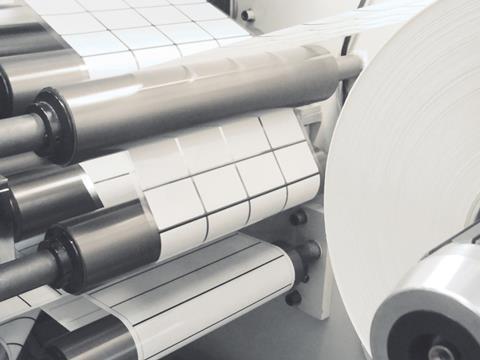 New statistics released by FINAT have reported that European labelstock demand faced a significant decrease in last year's fourth quarter due to strike-related paper shortages from Finland in the first half of 2022, amongst other causes.
Although there was reportedly a rebound in the third quarter, Europe's consumption of paper and filmic roll labelstocks decreased by 24% in the final quarter – said to be the sharpest year-on-year decline in a single quarter since FINAT began collecting quarterly statistics in 2003.
According to FINAT, the changes in demand were a correction of the 'erratic' market behaviour in the previous three quarters in response to the Finnish paper strike, which lasted until Easter, and the resultant paper shortages and increasing lead times.
Other causes cited include economic disruptions caused by the Russian invasion of Ukraine, the soaring costs of energy and raw materials, rising interest rates, the refilling of label converter warehouses in the third quarter, and the threat of an oncoming recession due to European consumers' shrinking disposable income.
This led label converters to deplete stocks and postpone the procurement of new labelstocks towards the end of last year, FINAT says.
However, a FINAT RADAR report released in December 2022 – featuring data collected from a survey of 60 brand owners in November – stated that almost 85% of respondents expected their label procurement to remain stable or increase in the future.
Overall European self-adhesive labelstock demand also decreased by 4.7% in comparison to 2021, the company reports. This development follows FINAT's previous observation that it increased by 7% to almost 8.5 billion m2 in 2021 following an initial decrease in the wake of the COVID-19 pandemic. Nevertheless, it was still warned that ongoing shortages of raw materials, strikes, and supply chain tensions could cause issues in 2022.
Weeks later, FINAT wrote to the European Commission to express its concern that such disruptions would cause a ripple effect throughout Europe that would even impact consumers.
Print Against War, an independent movement led by members of the global printing and packaging industry, previously shared its members' stories about the ongoing effects of the conflict in Ukraine and how Ukrainian businesses were being supported by the industry at large.