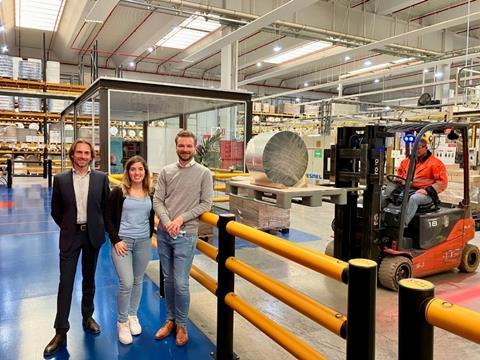 Avery Dennison Label and Packaging Materials is set to use Tosca's plastic pallets to distribute its materials, aiming to reduce CO2 emissions across its European supply chain by over 800 tons every year.
It is claimed that switching to plastic pallets over wooden alternatives will increase reuse, with Tosca estimating that its plastic pallets can be used over 100 times and recycled at end of life – and that Avery Dennison alone could switch all its Euro-sized (1200 x 800mm) wooden pallets to plastic and save 819 tons of CO2 emissions. The pallets are also thought to lessen damage to products during the transportation process and thus cut down on waste.
Set to take effect across factories and distribution centres in the EU, UK, Norway, Switzerland, and Turkey, the collaboration is expected to benefit Tosca's pooling programme, in which clean, empty pallets are delivered to the company's sites from service centres across Europe at the end of the year. Tosca is said to inspect and wash the pallets after every rotation, and participating companies receive a CO2 reduction certificate. The programme has been the subject of an almost year-long trial at Avery Dennison's distribution centre in Dublin.
"The pooling program has been a massive success in Ireland and is helping us to reduce our carbon footprint and eliminate waste within the supply chain," says Violeta Gómez, central packaging leader at Avery Dennison. "Customers appreciate the fact that plastic pallets offer standard quality: they are cleaner (dust-free) and with less risk of damaging their products.
"Avery Dennison's and Tosca's plastic pallet pooling vision doesn't stop after the pallets arrive to the customer. We encourage customers to take the chance to extend the pooling program further down the supply chain to end-users and help grow the ecosystem further."
"Tosca provides solutions that enable companies across the world to eliminate wasted materials, miles, space and labor to make the entire supply chain more sustainable," adds Felix Van Ouytsel, business development manager at Tosca. "As the largest pooler of plastic pallets in Europe, we deliver a combination of reusable products, a flexible global service network and a committed partnership which will benefit Avery Dennison and its customers.
"We look forward to this partnership and are very happy to welcome Avery Dennison to the Tosca family."
Previous efforts towards carbon reduction have been made by UBQ Materials and PepsiCo in their utilisation of the former's reportedly recycled PP and BOPP shipping pallets. More recently, Bradfords and Tarmac announced that they would trial The Pallet LOOP, an end-to-end returnable pallet system set to guide the construction industry towards its goals of net zero emissions by 2050 and the elimination of packaging waste from the building material supply chain.
Earlier this year, the European Federation of Wooden Pallet & Packaging Manufacturers (FEFPEB) stated that sanctions and restricted exports caused by the Russian invasion of Ukraine would impact wood supply in Europe, with the 5.4 million m3 of softwood timber supplied by Russia to the EU considered 'conflict timber' and unable to be used in PEFC-certified products. This would, according to FEFPEB, put pressure on the production of wooden pallets.