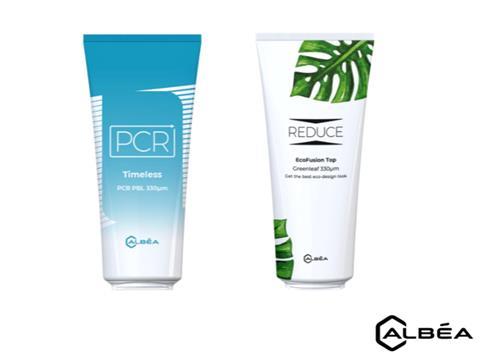 Albéa introduces EcoFusion Top, a two-in-one HDPE cap solution for tubes for personal care applications, which reportedly offers a "significant" weight reduction compared to standard tubes.
The single open-and-close system from Albéa reduces the tube's components to only two, the tube and the single cap, which the company claims make its 80% lighter than standard head and cap solutions. The solution reportedly allows a 55% overall weight reduction of the whole tube when comparing the D50 200 ml, with an EcoFusion Top and Thin-Wall 350µm, with the standard head and cap with 500µm sleeve thickness.
According to Albéa, EcoFusion Top is made from HDPE to guarantee mono-materiality and help to enhance its recyclability. The solution involves a flip-open cap built into the head of the tube.
The EcoFusion Top is available with various sleeve options from Albéa, including Greenleaf laminate tubes and the Thin-Wall technology for extruded tubes.
The company adds that the solution is also adapted to the e-commerce market and complies with Ista-6 standard.
Caroline Hughes, marketing manager at Albéa Tubes, comments: "Reducing plastic use through weight reduction is a top priority in our responsible tubes roadmap.
"As a single-component open-and-close breakthrough system, EcoFusion Top is the most advanced solution in weight reduction on the market.
"In addition, less plastic in the packaging means a smaller carbon footprint and a reduced environmental impact."
In 2020, Albéa launched a range of flip-top caps made from 100% PE, offering a monomaterial tube that can apparently be processed in existing rigid HDPE recycling streams. The company has also worked with partners including SABIC and The Estée Lauder Companies on a tube made with chemically recycled resins, as well as GSK, Henkel, and Colgate on recyclable toothpaste tubes.