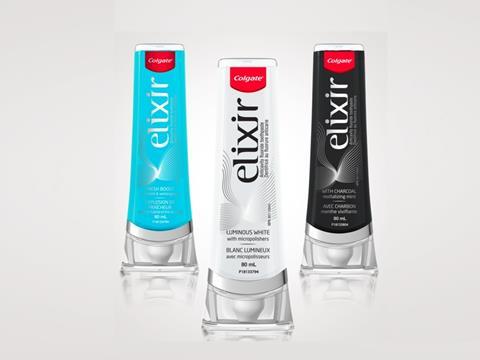 Developed at the Massachusetts Institute of Technology (MIT) by co-founders Professor Kripa Varanasi and Dave Smith, LiquiGlide offers custom coatings that adhere to surface materials to make them more slippery. LiquiGlide, when applied internally to packaging formats like tubes, can prevent residual waste from viscous products that are difficult to fully dispense – both optimising the amount of product available and helping to ensure packaging is ready for recycling.
Dan Rippy, CBO at LiquiGlide, discusses the potential of this technology, as well as what the company's recent partnership with Colgate means for its plans to scale the solution across multiple applications.
A chemical basis
According to Rippy, "our co-Founders had a vision to eliminate friction between liquid and solid interfaces to minimize waste and enable new and better products, processes, and technologies across industries", leading them to invent and develop "the scientific framework for stable, liquid-impregnated surfaces, which became the foundation for LiquiGlide" while at MIT.
Varanasi and Smith founded LiquiGlide with the intention of commercialising the technology, after a video they made of ketchup sliding out of a bottle – a way to demonstrate the core purpose of the technology – went viral and drew international interest. The co-founders, Rippy says, wanted to "make [the technology] accessible across industries" by demonstrating its "possibilities in product innovation and packaging".
LiquiGlide offers "stable, slippering coatings using a combination of texture and surface chemistry to stabilize lubricants". As part of LiquiGlide's proprietary thermodynamic algorithm, the liquid is paired with solid, textured surfaces that are able to stabilize it through chemical affinity and capillarity (a phenomenon where liquid spontaneously rises or falls inside a narrow space such as a tube due to molecular interactions with the internal surface wall). The liquid coating is held in place over time by the texture of the surface, which produces LiquiGlide's main component: "durable slippery surfaces that allow viscous liquids to move easily".
The LiquiGlide EveryDrop technology can be adapted for a range of different surface materials and applications. EveryDrop is intended for use across applications including health and beauty products like toothpastes, as well as food products such as sauces, cream cheese, and salad dressing.
"Custom-formulated coatings use ordinary ingredients that are compliant with rigorous food and drug safety standards without impacting product quality," Rippy explains. "Standard batching and application equipment can integrate into manufacturing processes of any scale."
Consumer convenience with a sustainable twist
As Rippy notes, "increasing human consumption, in the CPG space as well as others, will always pose challenges to the planet". LiquiGlide is therefore aimed at improving the environmental outcomes for what it claims are more than 100 billion plastic packages sold each year containing viscous liquids for applications ranging from cosmetics to food products to pharmaceuticals.
"The residual product in these packages accounts for over 5 million tonnes of waste per year," Rippy adds. In addition to product wastage, the presence of residual products like food on used packaging can interfere with its recyclability, potentially introducing contaminants into the process. Some containers direct consumers to rinse or clean it before placing it in the recycling bin – a step that might be skipped, or consumers may even place a recyclable item in landfill if they are confused or put off by this instruction.
According to Rippy, "our EveryDrop technology eliminates product waste and yields a clean, recyclable container". It also provides opportunities for products that are currently sold in heavy jars (which may have higher cost and energy-intensive transport requirements) or pump bottles (often multi-material, requiring separation for recycling) to be dispensed from bottles or tubes featuring the LiquiGlide technology, meaning they can "use less material and are fully recyclable".
In addition, Rippy says, "consumers are constantly frustrated by the difficulty of getting all of the product out of a package" by rolling or cutting tubes and bottles, as well as apparently being concerned themselves over residual product waste form both a sustainability and cost perspective. The EveryDrop technology can therefore contribute to a smoother and more efficient experience with using these packaging types. Meanwhile, the functionality of the technology means that companies can offer transparent or translucent packaging as the product does not stick to the walls – which "allows consumers to see how much is left and easy recycle it when it's done," Rippy explains.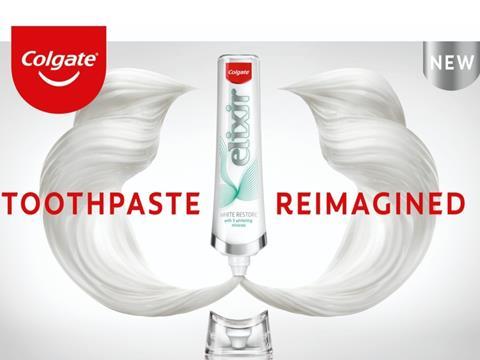 From college lab to Colgate collaboration
When it comes to developing solutions to both improve consumer experience and sustainability, Rippy tells us: "We need to think beyond incremental innovation. We need real invention – tools that allow us to rethink, to redesign. Academic institutions like MIT can be fertile ground for groundbreaking solutions like LiquiGlide that change the rules and allow for seismic shifts in how we address those challenges."
Collaboration with key market players is also key, according to Rippy. LiquiGlide has recently partnered with Colgate to launch Colgate Elixir, a clear PET toothpaste container that was initially launched in Europe in Spring 2021 and will now be expanded across North America. Colgate offers three of products as part of the Elixir range: Gum Booster, White Restore, and Cool Detox, which feature the EveryDrop technology to reportedly optimize dispensing and recyclability.
"In addition to providing important funding, partnerships with industry can provide valuable perspective to ensure that research is aimed at solving real-world problems," Rippy adds. "And, of course, the industry can play a critical role in helping to drive adoption of technologies into the market."
What's next?
Following its collaboration with Colgate, Rippy explains that LiquiGlide is looking to continue expanding its reach "to the health and beauty platform where we are working with partners towards commercializing EveryDrop packaging for products like creams, lotions, gels, and conditioners".
Rippy concludes: "We are also focused on a number of applications in the biomedical field where our technology can improve patient outcomes and quality of life through devices that won't become obstructed and unconstrained processing, production, and delivery of viscous pharmaceuticals and biologics."