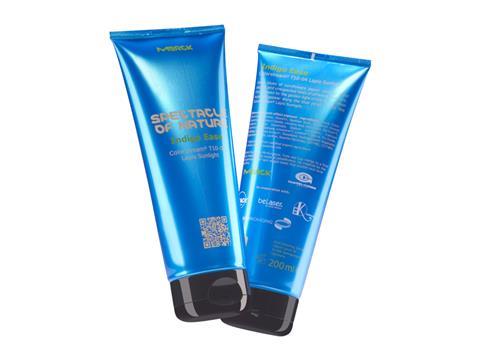 Gabriel-Chemie Group has worked with its partners to develop a series of lightweight monomaterial tubes that it says possess "perfect recycling performance".
The company designed the tubes with the aim of using less material but maintaining the same level of tube robustness. And, as a result of the use of monomaterial, Gabriel-Chemie describes the tubes as "easy to recycle".
The flip-top closures are partially Near-Infrared (NIR) detectable and therefore apparently suited for waste separation. Finally, laser marking technology reportedly ensures an ink-free and reliable label process while meeting all the safety requirements of conventional labels, without the need of lamination or glue.
Michael Heindl, team leader for customer projects at Gabriel-Chemie Group, says: "When I first heard about the project, I was immediately excited. All current topics such as weight reduction, mono-material, sustainability and many more could be realized in one tool.
"The Spectacle of Nature series shows that sustainability and fascinating colour effects can be perfectly combined. Plastic can be the solution, not the problem. Thank you to all involved partners and my great team, Technical Department Customer Service."
Ulf Trabert, Business Development Manager at Gabriel-Chemie Group would also like to thank all collaboration partners for their prominent support, "it has shown again that teamwork as well bundling know-how and enthusiasm leads to great success. Sustainability in plastics is our uttermost task and inspiration for finding innovative packaging solutions, which we have realized in this tube series.
"Colour-wise it hasn´t to be a grey or white packaging only. These outstanding tube colours stand for differentiation, individualization and high valuable packaging. Brand companies, packaging development as well as packaging designers are welcome to visit our Center of Competence at any time, finding decorative solutions for their brand series, sustainable solutions included."
This project was a collaboration between six companies. Merck provides Colorstream effect pigments, Iriotec laser-sensitive pigments for durable laser marking and Ronastar pigments that veil items in liquid shimmer. Gabriel-Chemie developed the masterbatch while Tupack produced the cosmetic plastic tubes.
Additionally, KM Packaging offers the flip-top closure manufacturing to open and close the tubes. Finally, Emil Kiessling fills each tube with shower gel and beLaser marks the flip-top closures and/or tubes with suitable laser marking technology.