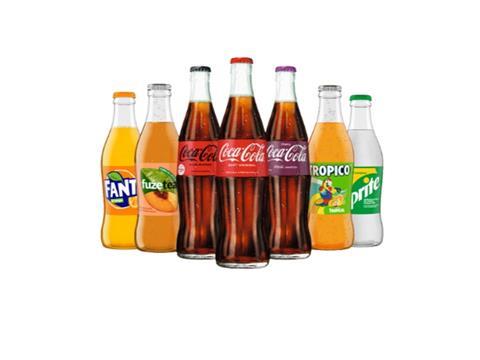 Coca-Cola Europacific Partners (CCEP) has announced that, in France, its Fuze Tea, Tropico, Sprite, Fanta, and Minute Maid brands will be available in universal 250ml bottles that can be returned, cleaned, and refilled for reuse in hotels, restaurants, and cafes.
The brands will join Coca-Cola Original, Coca-Cola Zero, and Coca-Cola Cherry, which are already offered in 350ml returnable glass bottles.
According to CCEP, the universal format provides retail outlets and wholesalers with easier management of bottle returns. Once empty, the returnable glass bottles are stored in their own crates and collected for return to the factory, where they are cleaned and refilled.
CCEP claims that the glass bottles can be refilled up to 25 times. This will reportedly stop the equivalent of more than 15 million single-use glass bottles from being produced in 2022, with CCEP adding that the new refillable bottle has three times lower greenhouse gas (GHG) emissions.
The company notes that packaging accounts for 43% of its total value chain emissions. CCEP France has set the target of reducing its GHG emissions by 30% on all of its activities by 2030 (compared to 2019 levels) and achieving carbon neutrality by 2040.
In addition, CCEP says that by the end of 2022, it will be the first supplier of non-alcoholic beverages to distribute 100% of its beverages using a deposit system in hotels, restaurants, and cafes.
Yann Guelorget, out-of-home sales director at CCEP France, says: "The 160,000 cafés, hotels and restaurants in France will now have the opportunity to receive all our beverages in returnable glass bottles.
"Right now, we are launching Fuze Tea and Tropico in 250ml recycled glass bottles, Fanta, Sprite and Minute Maid will follow before the end of the year.
"This aims at appealing to both our retail customers while meeting consumers' expectations."
Page Guillot, president of Coca-Cola France, adds: "Coca-Cola, Fanta, Sprite, Fuze Tea, Tropico and Minute Maid are benchmarks in the French consumer landscape.
"Our desire is to commit these brands to a more sustainable model. An ambition that corresponds to consumer expectations to move towards more circular consumption patterns and to contribute to the fight against climate change."
The Coca-Cola Company has pledged to make at least 25% of its beverage packaging refillable or returnable by 2030. This includes initiatives such as the Freestyle portfolio, which Coca-Cola recently expanded with a compact smart dispenser model that allows consumers to fill reusable bottles on-the-go, and the self-pour, self-pay technology developed for restaurants, cafes, offices, stadiums, and other venues by Innovative Tap Solutions for Coca-Cola Spain.