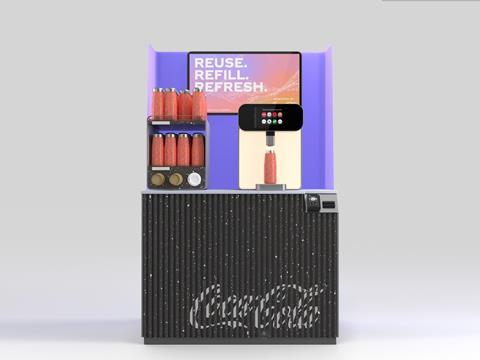 The Coca-Cola Company has expanded its Freestyle portfolio with the New Compact Freestyle machine, a smart dispenser that allows consumers to personalise their drinks while using their own reusable bottles or containers.
Coca-Cola says that the New Compact Freestyle machine has been developed as an extension of the Coca-Cola Freestyle brand and portfolio, building on the company's aim to innovate dispensing solutions as a 'drinks-on-demand' category for smaller on-the-go and at-work locations. The new machine is reportedly the smallest unit in the most digitally advanced range of Freestyle machines.
According to Coca-Cola, the New Compact Freestyle, like the rest of the portfolio, enables digital consumer interaction. This includes options for consumers to personalise temperature and carbonisation levels of their taste, with around 40 beverage choices on offer.
Consumers can use their reusable vessel of choice with the machine. Dispensed solutions like the New Compact Freestyle will form an important part of Coca-Cola's recently-announced goal for 25% of its packaging to be reusable by 2030, with the company looking to introduce and expand a range of solutions including Universal Bottles and reusable packaging in fast-food restaurants like Burger King. The company is considering further scaling these solutions in regions most impacted by rising prices for energy and goods, claiming that reuse and refill can provide some resilience in the face of reduced consumer purchasing power.
Coca-Cola adds that preliminary Life Cycle Analysis (LCA) of the New Compact Freestyle has identified a lower carbon footprint per litre of chilled beverage compared with conventional pack types, such as cans and PET bottles.
Trials of the New Compact Freestyle will begin this month at both on-the-go and at-work outlets in France and Belgium, in partnership with Coca-Cola Europacific Partners. Trials in the UK will apparently follow shortly thereafter, with additional European countries to abe added to the trials throughout 2022.
Further analysis will be conducted in real-world conditions during the trials, including additional external LCA analysis and verification, Coca-Cola says. The digitally-advanced capabilities of the New Compact Freestyler can reportedly provide rich data and insights into consumer behaviour to help optimise the dispensing solution.
Nikos Koumettis, president of Europe at The Coca-Cola Company, comments: "This innovative new dispenser is an exciting step forward for Coca-Cola.
"The findings of our preliminary analysis promisingly show that the New Compact Freestyle can have a lower carbon footprint per serving compared to traditional packs, such as cans and PET bottles. This is hugely encouraging given the importance to deliver meaningful action on sustainability for Coca-Cola, and our customers and consumers.
"In developing this new dispenser, we've used the latest in technology to offer a wide variety of personalisation options in line with both consumers' digital-led lives, and their appetite for choice. These new trials mean that consumers can prepare their own perfect drink, just as they like it, and can use less packaging and carbon to do so – a win-win for them, and the environment."
Last year, Coca-Cola also launched a self-pour, self-pay beverage dispensing technology for restaurants, cafes, offices, stadiums, and other venues with Innovative Tap Solutions in Spain, which allows consumers to refill their own drinks and pay for the quantity served themselves.