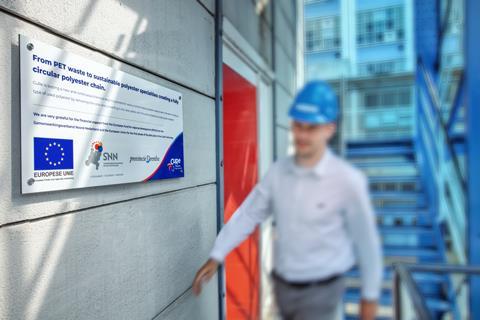 Coca-Cola Europacific Partners (CCEP) is investing in CuRe Technology, a recycling start-up, in a bid to scale up technology to convert difficult-to-recycle polyester into rPET for use in its European bottle packaging.
CuRe Technology's 'polyester rejuvenation' recycling process targets plastics that are incompatible with mechanical recycling methods and diverts them away from incineration, landfill, and downcycling. This apparently results in plastic that can be re-processed as many times as is necessary and a carbon footprint that is 65% lower than virgin PET, based on an LCA conducted by CuRe.
Complementing its efforts to eliminate virgin oil-based plastics from its bottles, CCEP's investment will give the company access to CuRe's rPET; this is set to be supplied by a new plant, which aims to begin production in 2025.
An initial investment was made in 2020 in which CCEP sought to support CuRe Technology's R&D roadmap and pilot plant. This further investment will build on the current progress and aspires to commercialise the polyester rejuvenation technology.
In general, CuRe's rPET is intended to be utilised in food and drink packaging to create a new rPET stream and pursue the transition into a circular economy for PET.
"We are committed to reducing the environmental impact of our packaging, and eliminating the use of oil-based virgin plastic in our bottles by the end of the decade," said Joe Franses, VP Sustainability at CCEP. "Packaging challenges need big ideas to tackle them, and through CCEP Ventures we can accelerate innovative solutions to help us meet our ambitions. CuRe's technology will give us access to recycled plastic that will accelerate our transition to a circular economy for our packaging."
Josse Kunst, chief commercial officer at CuRe Technology, added: "We are excited to further strengthen our relationship with CCEP, helping drive progress on their goal to create more sustainable packaging.
"CCEP's renewed commitment will help us complete the engineering for our first commercial plant faster, scaling cutting-edge technology and making it possible to revitalise previously difficult to recycle plastics."
CCEP Ventures, the innovation investment arm of CCEP, is providing the funding. CCEP previously invested in the University of Twente and Universitat Rovira i Virgili's research into carbon capture technology as a method of creating new packaging materials.
It conducted a similar project with the University of California, Berkeley in 2022. In the same year, CCEP expanded its returnable bottle glass system for its soft drinks brands in French hotels, restaurants, and cafes.
If you liked this article, you might also enjoy:
McDonald's Director of Sustainability in Europe on the company's approach to packaging sustainability
McKinsey on whether or not on-pack sustainability claims affect consumer spending
Perspectives from industry-leading experts on the EU's Packaging and Packaging Waste Directive revisions
A deep dive into the most important packaging sustainability trends and solutions