Sreeparna Das spoke to Bob Powell, CEO of Brightmark, to understand the role advanced recycling – also known as chemical recycling – can play in supporting the demands of the flexible packaging sector, the key growth areas, and the existing challenges to scaling up advanced recycling.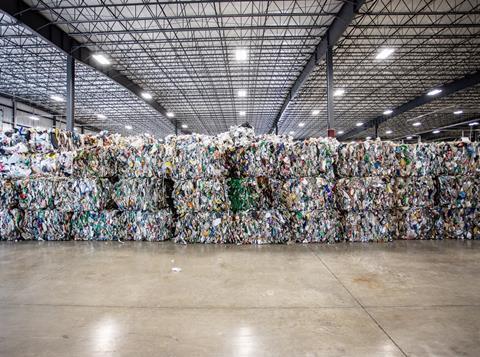 As demand for more recycled content, commitment to meet environmental objectives and consumer expectations converge, significant increases in recycling capacities are needed. Advanced recycling is a pathway receiving significant capital investment and seeing numerous high-profile partnerships emerge.
Brightmark has signed a memorandum of understanding with bp to jointly evaluate opportunities to develop next generation plastics renewal plants in Belgium, Germany and the Netherlands; and recently become ISCC+ certified and active in CEFLEX to work more closely across the whole flexible packaging value chain.
SD: Can you shed some light on recycling choices and the possible pathways to a circular economy?
BP: There are a number of steps on a mission to reimagine waste and hopefully, in the end, create a world without waste. Thinking of this as 'it takes a village' is really important here. Reduction in use is one of the important solutions and we advocate the reduction of plastic waste by lowering consumption. And before post-consumer plastic products get to us, there need to be the right incentives and the ecosystem in place to avoid plastics entering the environment.
Specific to mechanical or advanced recycling pathways, an important aspect is to determine how much of the post-use waste stream can each technology process in the most efficient way. There is a high value in mechanical recycling of plastic waste streams like water bottles – and in reference to the one to seven plastic categories – the ones, some of the twos, and some of the fours.
Over time, the products that mechanical recycling produces, however, will break down and it won't be possible to continuously recycle plastics via mechanical recycling, at least as well as we're aware now. That's where a technology like advanced recycling comes in. At Brightmark, our patented plastics renewal technology can recycle every single one of the plastics, one through seven. We don't target the waste streams where mechanical recycling produces a higher value but we can definitely take the rest. And so I think the complementary nature of mechanical and advanced recycling of plastics is very powerful.
SD: What according to you are the main barriers to scaling up advanced recycling?
BP: With 385 million tonnes of plastics used a year and only 9% of those plastics recycled today, I believe that advanced recycling has the power to change the equation globally. But there are a couple of barriers. The first thing is to understand where we are in the lifecycle of this solution.
Right now, we're in the early days and it is necessary to find a way to scale the technologies that work as quickly as possible. We need both community and governmental involvement. And we also need involvement from the waste management communities and the producers of plastics. Those of us like Brightmark that are in the advanced recycling area need to show the world that it's working. Our first facility, which is located in northeast Indiana, United States, is nearing completion and thus can demonstrate the ability to sell our liquids to remake plastics and other products.
It is also really important to engage with a lot of NGOs and different groups that are very concerned about plastic waste but are sceptical about what we're doing. You may notice that I didn't use the word 'chemical' when I say advanced recycling because people grab onto certain words without deeply understanding and listening, which makes them say 'I don't want anything to do with chemicals'. I think it's really important to listen to their concerns, be thoughtful about them, and not dismiss the potential problems.
One of the concerns that the groups have, and that we at Brightmark are attuned to, is about environmental justice. So when creating solutions, we must ensure that we are not disadvantaging some communities that have historically been disadvantaged. Similarly, regarding the environmental impacts of advanced recycling technologies, it is important that we draw in independent parties to ensure clear and credible communication. In that vein, we commissioned a lifecycle analysis at our first facility in Ashley, Indiana from an independent university and consulting firm.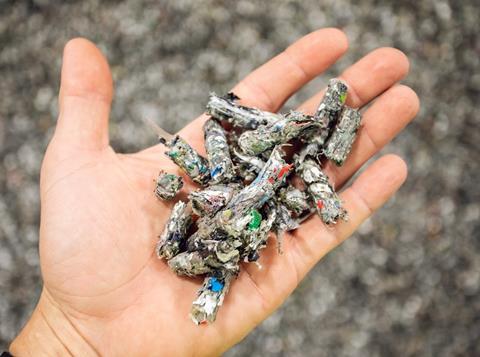 SD: Based on the current dynamics and future needs, how do you think the flexible packaging recycling trends will evolve in the next five to ten years? What will be the impact on chemical recycling?
BP: There is a clear trend requiring an increased percentage of recycled content in flexible packaging. A lot of it has to do with consumer trends as there's greater awareness of the post-use plastics issue amongst consumers, who are demanding that the products they buy have higher recycled content. So there's that whole downstream pull, starting from the actual users of the products. And what I anticipate is until we are up at scale, there will be a lot of stress involved in that process because we will not be scaling as fast as the flexible packaging community wants. What we need is tremendous amounts of capital to be invested in order to move faster and scale quicker.
This supply-demand mismatch is quite interesting because when we designed our first facility in Ashley, Indiana, the demand that we see today wasn't there. The world has changed really quickly as producers commit to environmental goals and respond to regulatory pressures. So it requires us that are upstream to scale quicker and create an ecosystem to get to the required volume of supply. We'll need a lot of partnerships evolving within the ecosystem, i.e. waste management companies, advanced and mechanical recyclers, and the flexible packaging community.
Also, plastics generally have not been treated as a waste stream that needed to be preserved and reused. So we've got the mixing in of organic material and many other things with plastics. And even though our technology is very flexible and can process plastic types one through seven, we need to create the capability of separating mixed waste so we don't get a lot of organic material. We've seen that with the right economic incentives, it is possible to do so because instead of a cost, there is now an income stream associated with it. To create sustainable solutions that really drive change, the projects must also be economically sustainable as well.
SD: Can you help us identify the future growth areas?
BP: I'm a big believer that one needs to go and tackle the biggest problems first – the Pareto principle. Making sure we tackle it in areas where we have the waste problem is definitely one of the key trends. And in terms of where the waste is produced, certainly, the industrialized world is a big area. I would also include parts of the world that may not be as industrialized but are facing different sets of issues with regard to waste management. Eight of the top ten rivers in the world that bring plastics to the ocean are located in the Asia Pacific region. So if, at Brightmark, we have a mission to reimagine waste, then doing it just in the States or just in some particular areas is probably not going to drive the greatest impact. I think what you would see is us at Brightmark and probably others being very geographically focused. Last year we announced plans to build one of our facilities in South Korea, and earlier this year, we announced a project in Australia to do the same. Also on our radar are Mumbai and other places throughout the world.
Another important trend to note here is the ESG investing area, which can drive growth. The financial community is increasing its focus on social causes and environmental issues. Much more capital is now being directed towards economic solutions that drive environmental solutions and have a positive social impact.
SD: Concerning value chain collaborations, how can converters, brands, and recyclers work together to achieve the best impact?
BP: In order for us to solve the problem, we have to start with the dream and then get very specific about reality. The first step is to look at the participants along the entire value chain and break down each one of their specific areas. These include advanced recyclers, waste management companies, picking communities, producers, financial institutions, and governments, and then talk very specifically about the economics and the support systems.
Getting the required regulatory support will aid this process and governments can play an important role with initiatives such as tax credit assistance, which have shown good results, for example, with renewable energy across the world. I think it's also important that legislation supporting our industry also ensures that we're very transparent about the environmental impacts. I fully endorse the need for advanced recyclers to also be held to a standard and we're open to feedback and criticism because, at the end of the day, we're all trying to resolve the environmental issues.