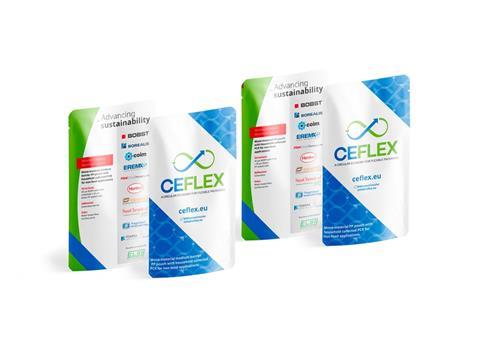 Flint Group and CEFLEX have collaborated to test how incorporating recycled polypropylene (PP) into flexible packaging impacts printing processes, as part of the latter's Quality Recycling Project (QRP).
CEFLEX says that the main goal of the QRP is to create a PP recyclate structure that does not inhibit the printing and converting process of today's supply chain. The aim is to recycle a higher percentage of PP in non-food contact film applications by targeting low recycling rates in consumer households across Europe.
Flint Group and CEFLEX conducted a series of five semi-industrial trials to test the viability of printing on films made using rPP resin. The organisations claim the results show that the use of post-consumer recyclate in the packaging structure did not inhibit the printing or converting process of a monopolymer PP duplex laminated barrier pouch in non-food applications.
Matthew Rowland-Jones, sustainability officer at Flint Group, explains: "Our team was delighted to provide the water-based inks and to add its expertise to the number of businesses supporting this important CEFLEX project.
"One of the biggest challenges in sustaining long-term growth for the packaging sector is that still to this day, a large proportion of flexible packaging cannot be easily recycled. If we want to secure the future of the sector, we need to put circularity at the front and centre of our focus and continue to close the plastic loop.
"By co-developing and trialing an rPP substrate that is easy for printers and converters to work with, we are opening a more robust path for long-term growth. At the core, it's about expanding the boundaries of what PP recyclate can achieve to prove that it's compatible with today's presses, converting technologies and quality demands.
"It's a great move forward for the wider print and packaging industry. With collaboration and innovative thinking, a greater proportion of flexible packaging waste can be processed in recycling streams. We are another step further from the linear waste streams that hold the packaging industry back, and that's something to celebrate.
"One of the biggest roadblocks to the adoption of rPP in flexible packaging applications has been that it's perceived as challenging to work with on press. The CEFLEX project is helping to break down this wall by showing that sustainability and performance are not mutually exclusive – and we're extremely proud to be part of driving that change."
According to CEFLEX, the next step of the project will involve the creation of an industrial-scale QRP waste processing plant, which is anticipated to be in commercial use by 2023.