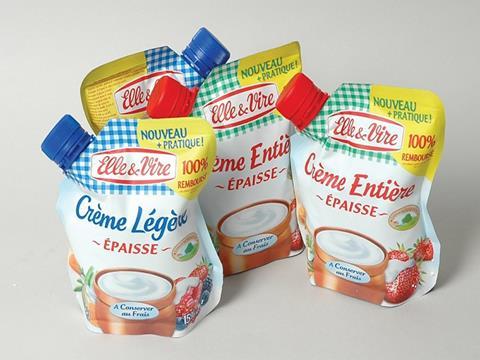 A group of organisations that represent the European flexible packaging value chain have called for legislators to develop a recyclability framework that acknowledges the unique challenges and opportunities of flexible packaging.
Co-signed by Flexible Packaging Europe, CEFLEX, CAOBISCO, ELIPSO, European Aluminium Foil Association, European Snacks Association, GIFLEX, NRK Verpakkingen, and The European Pet Food Industry, the industry position paper proposes that a "progressive and forward-looking definition of packaging recyclability" is essential if the packaging industry is going to make progress in building a circular economy.
In the paper, the organisations claim that at least half of food primary packaging on the EU market is comprised of flexible packaging, but in weight, it reportedly only accounts for one sixth of packaging material used. The group says this is because flexible packaging is ideal for protecting products with the smallest amount of material, mainly plastics, aluminium, or paper – or a combination of these, in order to enhance the protective properties of each.
However, the organisations acknowledge that it is this functionality of flexible packaging that can make it more challenging to recycle compared to rigid formats. It is estimated that only around 17% of plastic flexible packaging is recycled into a new raw material.
With the ongoing introduction of the Packaging & Packaging Waste Directive (PPWD) and the Circular Economy Action Plan in the EU – both of which the group says it fully endorses – targets such as a potential blanket threshold of 95% recyclability could exacerbate this challenge for the flexible packaging value chain.
Speaking to Packaging Europe in July, Graham Houlder, managing director at CEFLEX, explained that a 95% target "would render a majority of [small consumer flexible packaging] unrecyclable by definition rather than practice". This is reinforced by the organisations in the recent position paper, which claim that such a target is impossible for flexible packaging as components necessary for its function, such as inks, barrier layers, and adhesives, make up more than 5% of the packaging unit.
The organisations emphasise that life cycle assessments have shown that flexible packaging has a low overall environmental impact, including in terms of its carbon footprint. It warns that, as well as compromising the functional properties of flexible packaging, the potential targets of the PPWD could reduce the raw material efficiency and environmental benefits currently offered by flexible packaging.
Additionally, the group says that existing infrastructure was established before the recycling of small flexible packaging was made mandatory and when energy recovery was considered a legitimate alternative. At present, the group suggests that infrastructure is not yet ready to recycle flexible packaging at the capacity expected by EU initiatives. Earlier this year, CEFLEX released a statement saying that different groups needed to collaborate on ensuring the infrastructure was in place to allow the separate collection of flexible packaging.
In the position paper, the organisations therefore call for a revision of the PPWD to act as the "policy lever" that encourages innovative packaging design, infrastructure development, and comprehensive legislative measures going forward.
Regarding a definition of recyclability, the group adds that it will be important to propose redesigns of material structures that comply with existing structures while simultaneously scaling up the capacity and technologies used in waste managing infrastructure. For example, chemical recycling is flagged as one method that could prevent a "lock-in at the level for existing waste management technologies" in the paper.
As part of the CEFLEX project, specific guidelines for flexible packaging recyclability have been developed. Design for A Circular Economy (D4ACE) is intended to complement established design for recycling (DfR) guidelines for rigid packaging and large flexible packaging. Focusing on polyolefin-based flexible packaging, the guidelines are intended for groups across the packaging value chain, including brand owners, convertors, producers, and waste management services, to use in designing a recycling framework for flexible packaging.
The position paper calls for the D4ACE Guidelines to be referenced by the PPWD, which it claims would help to align the value chain in achieving the critical mass required to improve recycling rates of flexible packaging waste material.
The organisations add that, if the PPWD settles on a general definition of recyclable packaging, this will require criteria that can be met by all types of packaging and materials to be effective. It concludes that future legislation should also help flexible packaging to reach its potential by achieving higher recycling rates and full circularity, rather than altering its existing value as a packaging format.