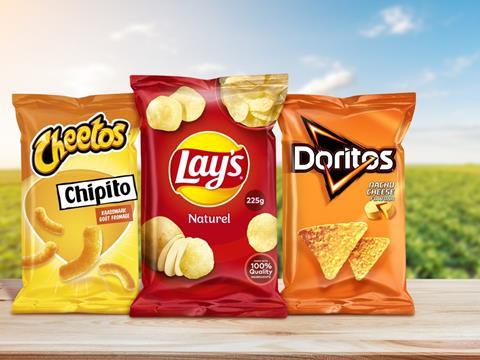 PepsiCo has today announced that it is aiming to use 100% recycled or renewable plastic in all of its crisp packets by 2030, which will apply to brands including Walkers, Doritos, and Lay's.
The announcement follows the introduction of the company's sustainability strategy, PepsiCo Positive. For its crisps range, the target will involve eliminating virgin fossil-based plastics, which the company claims could reduce greenhouse gasses (GHG) linked to its film packaging by up to 40% per tonne of packaging material.
PepsiCo says it will begin the rollout of the new packaging for European markets in 2022. The first move will be incorporating renewable plastic into a Lay's range in France, while some Walkers brand packets will trial recycled content in the UK.
According to the company, the recycled content in the packs will be derived from "previously used" plastic and the renewable content will come from by-products of plants, including used cooking oil and waste from paper pulp.
Silviu Popovici, CEO of PepsiCo Europe, explains: "Flexible packaging recycling should be the norm across Europe.
"We see a future where our bags will be free of virgin fossil-based plastic. They will be part of a thriving circular economy where flexible packaging is valued and can be recycled as a new packet.
"We're investing with our partners to build technological capacity to do that. We now need an appropriate regulatory landscape in place so that packaging never becomes waste."
PepsiCo says it currently uses flexible plastic for its snack packaging because it is lightweight compared to alternative packaging, reportedly meaning it has a lower carbon footprint, and because it keeps food fresh. The focus will therefore be on developing the design and infrastructure of the company's flexible packaging to improve environmental outcomes.
The new crisp bag designs will reportedly contain a greater proportion of recyclable plastic like polypropylene (PP) to help create a monomaterial structure. The company intends for these to meet the recycling guidelines developed by the Circular Economy for Flexible Packaging (CEFLEX).
Gerald Rebitzer, sustainability director at AMCOR, PepsiCo's flexible packaging partner in Europe, adds: "Together with PepsiCo, we enhanced the material technologies on PepsiCo's new crisp packet to make it easier to recycle. And we are beginning to integrate renewable and recycled content into PepsiCo's packaging.
"To meet the demands of our clients like PepsiCo, we encourage more partners upstream to invest in the supply chains of these new materials."
In addition, PepsiCo will apparently collaborate and finance the development of effective waste collection systems in Europe. The company says it will invest in schemes such as the Flexible Plastic Fund in the UK and REFLEX in Poland, alongside plans to "swiftly adopt" Extended Producer Responsibility (EPR) in Europe to drive the collection, sorting, and recycling of flexible film.
PepsiCo adds that it will trial smart packaging on several of its brands in 2022 in Germany and France, as part of the Holy Grail 2.0 Digital Watermarks initiative. According to the company, it is also working with partners like Borealis and TOMRA to progress advanced recycling technologies for flexible packaging.
Archana Jagannathan, senior director of sustainable packaging at PepsiCo Europe, concludes: "Through collaboration and innovation, we can progress to a viable circular economy for our food packaging in Europe.
"Today, the supply of recycled and renewable materials for flexibles is limited. The regulatory environment is very dynamic and we need more clarity on policy and recognised technologies.
"If a policy and waste infrastructure, similar to beverage bottle packaging, accelerates for flexibles, we will speed up our plans and go even faster to meet our commitments."
Earlier this month, PepsiCo was one of over 70 organisations backing a statement calling for the UN to introduce a legally binding treaty on plastic pollution.
The company has also previously committed to eliminating all virgin plastic from its Pepsi brand bottles by 2022. The company is part of the Carbios consortium, which last year took strides to scale and commercialise its enzymatic recycling technology, C-ZYME, for the depolymerisation of PET with an industrial demonstration plant.