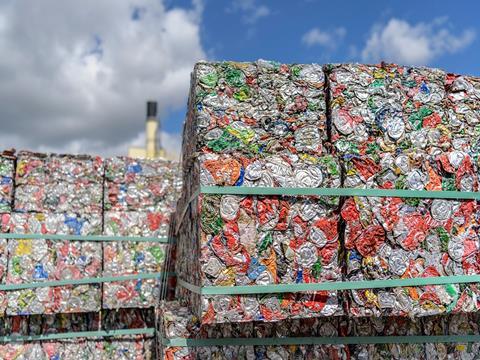 According to Alupro, aluminium recycling rates reached a record rate of 68% in the UK in 2021. The sector says this increase should act as further incentive to push for a 100% recycling rate for aluminium, as well as the continued development of collection, sorting, and recycling infrastructure.
In 2021, and based on data from the Environment Agency, Alupro says that more than 156,000 tonnes of aluminium were collected for recycling, representing a 3% rise year-on-year. This reportedly corresponds with more than four in five (82%) beverage cans being recycled in the same period, matching the previous record set in 2020 and making this the most recycled beverage packaging type in the UK.
According to Alupro, aluminium packaging collected through kerbside, bring, and on-the-go systems increased by 5%, reaching 112,210 tonnes in 2021. A slightly smaller increase in tonnage of 2% was sourced from incinerator bottom ash, the company adds.
Alupro says that more than 88% of this total volume was recycled within the UK and the EU. This means that around 12% was exported for reprocessing.
Tom Giddings, executive director at Alupro, comments: "It's pleasing news indeed to report yet another record-breaking year for aluminium packaging recycling. While the total UK market size grew, recycling rates kept pace.
"More importantly still, the vast majority of material was collected through kerbside, bring and on-the-go systems, which maximised the potential for closed-loop recycling.
"In 2020, recycling rates shot up across the board, driven in the main by the impact of the COVID-19 pandemic, resulting national lockdowns and mandatory working from home guidance. Many suggested that 2021 would see a natural drop in rates, due to gradually easing restrictions, so it's positive to see that consumers continued to recycle their aluminium packaging in 2021 and maintained their good habits.
"Looking forward to the first quarter of 2022, we hope to see record rates continuing, reflecting the positive trends of 2021. With higher, more ambitious national targets, we're pleased to be moving ever-closer towards a 100% recycling rate for aluminium packaging.
"As we do so, communication will prove ever-more pivotal in maintaining consumer engagement and maximising positive recycling behaviours. This is a key point included within our Aluminium Manifesto, which was released in March and calls for fundamental change in the UK's approach to packaging and waste management."
In its Aluminium Manifesto, Alupro calls for local authorities in the UK to introduce ambitious recycling infrastructure and targets, including for on-the-go packaging, with consistency being key across kerbside collection. The group also highlights the importance of authorities collaborating with the industry to ensure that aluminium packaging is clearly labelled, reminding consumers that it is recyclable.
In addition, Alupro calls on the UK Government to implement a Deposit Return Scheme (DRS) that promotes the collection of at least 90% of all drink containers. This would put the UK in line with other countries, such as Denmark, which has apparently achieved a redemption rate as high as 93% for drinks containers. Alupro says the aim of a UK DRS should be to facilitate a closed-loop system for aluminium so that it can be "sold to recyclers in a fair and transparent market".
Alupro also emphasises the importance of a well-designed and cost-effective Extended Producer Responsibility (EPR) system, again with closed-loop aluminium recycling being the goal. As part of plans announced by Defra earlier this year (although there are ongoing delays in the implementation of the UK's proposed EPR system), the recycling rate target for all aluminium in the UK will be 50% by 2030. Additionally, Alupro says that EPR should enable the accurate reporting of recycling rates to track progress against targets.
While 'energy from waste' is considered controversial in some other packaging segments – for example, major consumer goods companies recently endorsed the use of chemical recycling as an alternative to waste-to-energy for plastics – Alupro claims this is an "important stage" in recovering "permanent minerals" like aluminium within a circular economy. Therefore, Alupro calls for the recovery of aluminium from incinerator bottom ash to be recognised when calculating recycling rates for aluminium.
Demand for aluminium, while variable between sectors, appears relatively stable. For example, global shipments of aerosol containers fell by 1.2% in 2021, according to the International Organisation of Aluminium Aerosol Container Manufacturers (AEROBAL). However, within the aerosol segment, some specific applications, such as hair care, shaving foams, and food markets, saw significant increases in deliveries. Similarly, the European tube manufacturers association (etma) reported an increase in deliveries of just over 1% for the sector in 2021, with aluminium tubes contributing to a 35% share of the market overall.
Notably, as reusable options are being introduced for a range of applications, aluminium has been the basis of novel innovations including the "world's first" refillable toothpaste dispenser. Meanwhile, Ball Corporation announced earlier this week that it would be increasing the amount of recycled aluminium used in its reusable cups to 90%, as part of its ongoing partnership with Novelis Inc.
Chris Latham-Warde of Every Can Counts, Alupro's communications programme aimed at enhancing drink can recycling, concludes: "A record-breaking recycling rate reflects ever-increasing public awareness about environmental issues and the widespread benefits of recycling.
"Over the past 12 months, Every Can Counts and also MetalMatters have continued to engage consumers throughout the UK and Ireland to make real inroads towards improving recycling rates at home and when on the go.
"With a full schedule of events and activity planned with partners this year, we expect the figures to be even more impressive in 2022."