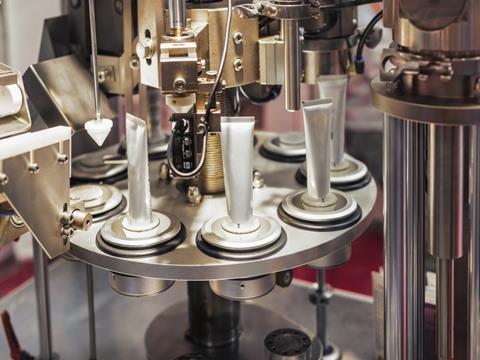 According to a report from the European tube manufacturers association (etma), the European tube market remained "stable" in 2021 despite the on-going challenges of the COVID-19 pandemic, reaching a total volume of just over 11.6 billion units.
The association reported stable deliveries of tubes in 2021, exceeding the previous years by just under 1%. In the first half of 2021, etma found that total deliveries of aluminium, plastic, and laminate tubes increase by 0.5%.
A key change to the European tube market in 2021, however, was the main end-use markets. There was an overall decline of 6% and 8% for the pharmaceutical and household product markets respectively, which the association attributes to fewer people visiting doctors during COVID-19 and lower prescription rates for medicines like ointments that are often packaged in tubes. Again, a similar trend was reported in September 2021 by etma, with a fall of 11% in deliveries to the pharmaceuticals industry.
However, the cosmetics market experienced an "encouraging" upturn, according to etma, with "a significant year-on-year recovery" despite some of the restrictions linked to COVID-19, such as reduced leisure activities. Connected also to the changing consumer behaviour during COVID-19, the food sector likewise experienced some growth as more households were more likely to prepare food at home.
In addition, the dental care market – which etma says is "generally not very sensitive to economic cycles" – remained steady in the second year of the pandemic, matching its prior-year level. In September, etma reported a 4% rise in tube deliveries for the dental market.
The material composition of tube deliveries was very close to etma's reporting on the first half of 2021. Laminate tubes continue to occupy first position, with a share of 37%, an approximately 1% decrease from the association's report in September, while the share of plastic tubes has apparently increased by 1% compared to the same previous data, bringing the total deliveries for this material type to 28%. Aluminium tubes represented a 35% share in both September and in the most recent report.
The last year has seen some interesting developments for the tube industry, including the Association of Plastic Recyclers approving Neopac's monomaterial barrier tube, a compostable paper tube from Smurfit Kappa, and Emballator's 100% aluminium and plastic-free tube prototype. Going forward, Happier Beauty is also set to launch a "world-first" refillable toothpaste solution.
On this note, etma identifies some similar challenges to its earlier report on 2021, including "sometimes exorbitant" price hikes for raw materials and transport, which continued to pose challenges for the industry in the latter half of 2021.
Mark Aegler, president of etma, explains: "Prices for energy, truck and container freights in particular have literally exploded in recent months and are causing the industry great concern.
"Only through far-sighted inventory and production planning by tube manufacturers has it been possible to maintain security of supply in the value chain and avoid out-of-stock situations for customers and retailers."
This is not an issue unique to the tube industry. Key players from across the plastics, metals, paper, and labelling industries have also reported concerns over the global supply chain, with "record high" prices for materials like rPET and tensions due to uneven and reduced capacity across shipping routes. In October 2021, the European metal industry warned that production shutdowns were possible due to a shortage of magnesium, while the European Carton Markets Association (ECMA) has warned that lead times have grown from three to five weeks to 12 to 20 weeks.
Importantly, etma says that "a currently satisfactory order intake situation" means European tube manufacturers are "optimistic" about the future of the industry. Aegler concludes: "The tube as a packaging material remains extremely popular with consumers due to its ease of handling, its lightness and unbreakability, and its convincing resource efficiency which make it a real classic."