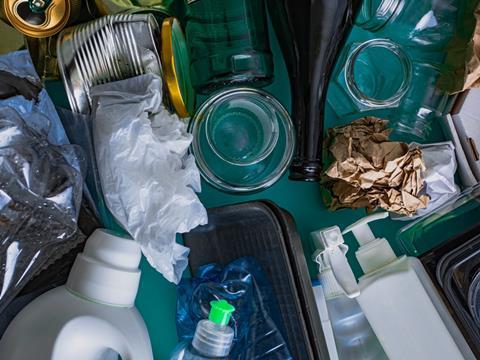 The UK Government's recently proposed revisions to its Extended Producer Responsibility (EPR) scheme include delaying implementation until 2024 and fees until 2025, the exclusion of glass for England and Northern Ireland's Deposit Return Scheme (DRS), and requiring standardised labelling, including 'do not recycle' on all compostable or biodegradable packaging. There will also be exceptions for business waste and litter, subject to review. What do these changes tell us about the wider challenges and opportunities associated with implementing EPR schemes?
A double delay
On Saturday the 26th of March 2022, the UK Government and Defra published an update on EPR, responding to the second consultation on the scheme. With a reported 1,241 respondents, the consultation involved a similar number of responses from local governments (28%), packaging designers, manufacturers, converters, and distributors (24%), and brands and retailers (24%).
One of the key changes made as a result of stakeholder consultation is a delay in the introduction of EPR in the UK. Defra now plans to implement EPR in a "phased manner" from 2024, rather than 2023. The report by Defra suggests that payments for household packaging waste and packaging in street bins managed by local authorities, which will be the initial focus of EPR, will come into effect from the 1st of April 2024.
This means payments will be made to local authorities and councils for the collection of household packaging waste, and on-the-go packaging disposed of in street bins. Therefore, it appears that producers will be required to cover the costs of managing household packaging waste, but that this will not extend to litter.
"This will simplify and de-risk delivery," Defra writes while discussing why these packaging waste types will be the scheme's first focus. "The payments for household packaging will support improved recycling collections for households, provide for the collection of additional packaging materials for recycling such as plastic films and flexible packaging and mean that all households will be able to recycle the same packaging materials from home."
Another delay is planned for the introduction of modulated fees based on recyclability. Initially slated for 2024, these fees are now set to be implemented from 2025, according to Defra. The organisation notes that this will not include payments for packaging waste that is littered in England and Northern Ireland, although Scotland and Wales are considering separate proposals to make producers responsible for litter also.
Defra explains: "As part of the phasing of EPR, producer fees will be modulated (varied) to reflect criteria such as recyclability, giving producers more control over the fees they pay and any impact on consumer prices.
"This will also incentivise improvements to the recyclability of packaging which is a key goal of this reform."
In terms of business waste, there will be an "interim solution" for managing packaging waste from this stream, which will draw on the current Packaging Recovery Note (PRN) system. This means that producers can purchase PRNs as evidence of having met targets, while the Government adds that it has plans to review this in a few years as part of a taskforce to look at how business waste collection could be included in EPR.
The threshold for producer recycling responsibility and disposal costs will remain the same: obligated companies will have at least a £2 million turnover and 50 tonnes of packaging handled each year. Defra says it has decided not to lower the overall threshold, but that it will be requiring companies with £1 million turnover and 25 tonnes of packaging handled each year to report on packaging placed on the market without having to pay EPR fees. This approach will be reviewed again in 2026.
According to Defra, the estimated obligated producer costs will be around £1.7 billion annually. The organisation attributes around £1.2 billion of this figure, which currently falls on taxpayers, to managing household waste. Defra says that its analysis does not indicate any significant increase in prices for consumers; this includes food prices.
The importance of packaging type
As for packaging types, Defra adds that all compostable and biodegradable packaging will be required to have a 'do not recycle label'. This will reportedly allow "time to build the evidence that it can be safely collected and composted separately". The organisation acknowledges that this could adversely impact the compostable packaging industry and discourage innovation in biodegradable and compostable packaging; however, it also notes a lack of knowledge in terms of the unintended environmental impacts of these packaging types, such as the release of micro-plastics.
Meanwhile, Defra claims that a single format for mandatory labelling of packaging for recyclability will also be introduced. The organisation has agreed to work with WRAP to use the Recycle Now mark on packaging, which means producers will be required to use this label alongside clear, relevant wording such as 'Recycle' or 'Do not recycle'. All packaging types except for plastic films and flexibles must include this label by the 31st of March 2026.
Defra will also require producers to use clear, standardised labelling for plastic film and flexible packaging by 31st March 2027, which will likewise be the deadline for including these packaging types in collection for recycling from both households and businesses across the UK.
Defra also says it will roll over the 2022 packaging waste business recycling targets to 2023 for all packaging materials, apparently allowing businesses to prepare for the introduction of EPR in 2024. The organisation plans to set annual recycling targets for plastic, paper/card, steel, aluminium, glass, and wood for each year from 2024 to 2030. There will be a slight delay to the announcement of the wood recycling target as the organisation considers creating a re-use system for wood pallets to keep them in service as long as possible.
By 2030, the recycling targets for packaging included in the scope of the EPR regulations will be 62% of plastic, 50% for aluminium, 85% for steel, 89% for paper/card, 83% for glass, and 80% for glass re-melt. This would set the overall recycling rate target for the UK as 76% for 2030.
The DRS question
In addition, the report attempts to provide some clarity on plans to introduce a Deposit Return Scheme (DRS) in England, Wales, and Northern Ireland. Scotland has already implemented its own DRS. While the consultation is still ongoing, Defra explains that it will consider an "all-in DRS" for single-use drinks containers containing between 50ml and 3ltr liquid sold either individually or as part of a multipack in England, Wales, and Northern Ireland.
However, England and Northern Ireland will not include glass in their DRS. Some consultation responses have raised concerns over the collection of glass in reverse vending machines resulting in the crushing and mixing of materials, apparently producing poorer quality glass than kerbside recycling, and the additional handling costs.
In both regions, glass drinks will reportedly fall within EPR to encourage glass recycling and cover the cost of managing household glass packaging. Northern Ireland will consider including glass in its DRS after the scheme has been implemented fully. It appears that, at present, Wales will be the only country of the three to implement a truly "all-in" DRS that will include plastic, steel and aluminium cans, and glass bottles.
There will also be a mandatory takeback requirement for fibre-based composite cups, according to the report. Any company that employs 10 or more full-time employees will be required to provide a dedicated bin for the separate collection of these single-use cups in 2024 as part of the EPR scheme. Larger businesses would be obligated to take part in this scheme by 2023, with all businesses incorporated by the end of 2025.
A varied response
Reactions to the UK Government's changes to EPR – and to what it has kept the same – are mixed.
The Association of Directors of Environment, Economy, Planning and Transport (ADEPT), for example, expressed disappointment about the delayed start of the EPR scheme. This view is shared by the Chartered Institution of Wastes Management (CIWM), with Lee Marshall, CIWM's policy and external affairs director, commenting: "In some respects, the delay is not a big surprise, but many will still find it frustrating."
ADEPT is also concerned about how the fees paid by obligated producers will be used, with Steve Palfrey, chair of ADEPT's Waste Group, commenting: "The response suggests that there may not be additional ongoing revenue funding for the new duties around consistency of collection, and that EPR payments will be used to subsidise wider household waste collections, rather than providing new funding to support the collection of packaging and for service development."
Perhaps predictably, both businesses and glass producers appear to have welcomed the UK Government's proposed revisions to EPR. In particular, glass producers have expressed relief that glass will not be included in DRS in England and Northern Ireland, as well as a willingness to participate in the wider EPR initiative.
Dave Dalton, CEO of British Glass, comments: "British Glass welcomes the decision by Defra and the Northern Ireland Executive to keep glass out of the proposed deposit return scheme in England and Northern Ireland.
"Ensuring that glass is recycled through an effective kerbside system, coupled with the introduction of extended producer responsibility, is absolutely the right way to improve glass recycling rates and reduce carbon emissions."
Others have criticised the exclusion of glass from the UK's EPR, including Mohammad Yasin, the Labour MP for Bradford, who called it "astonishing and, worse yet, […] disastrous for the environment".
There is also some concern over the take-back scheme for single-use cups. For example, while James Lowman, the chief executive of the Association of Convenience Stores (ACS), said that retailers were "relieved that they won't have to handle the return of glass drinks containers" in England and Northern Ireland, he added that "the introduction of a mandatory take-back scheme for disposable cups with additional reporting requirements could have a significant impact on convenience stores, especially when many will be making major changes as a result of the introduction of DRS.
"We are disappointed at the Government's definition of small businesses in this context, which is inconsistent with other policy areas.
"We urge the Government to rethink its proposals to include the smallest businesses in the reporting requirements for this take-back scheme, and instead use the success of the universal carrier bag charge as a model which does not require small stores to report."
Elsewhere, the Recycling Association's (RA) chief executive, Simon Ellin, said its members would be "breathing a sigh of relief that their businesses and they jobs they create would not be ended by Government policy". The group previously had concerns that changing the way business waste was collected could undermine the survival of its Member companies.
"The decision to set up a taskforce to look at how business waste collection can be funded by EPR is a sensible one, and a timescale of up to 2026/7 gives plenty of opportunity to come up with good proposals that work in the interests of recycling and waste businesses, producers, retailers and other stakeholders," Ellin adds. "Business waste collections work well, and only need slight improvements to continue to work effectively."
Speaking to Packaging Europe earlier this month, Emma Samson, marketing communications manager at environmental consultancy Searious Business, said that EPR "is often mistaken for punishment, a pollution tax to prop up an incompetent waste management system. But it can be much more than that." Samson notes that better EPR implementation is needed to support the improvement of recycling, with producers taking on responsibility to support its efficiency and profitability.
"As it stands now, the EPR landscape and performance varies widely across countries, preventing a homogenous system from being established," Samson noted. A global levelling of the playing field through more holistic initiatives, such as the UNEA's plans to introduce a global treaty on plastic pollution, could enhance the effectiveness of EPR.
The modulation of fees is one way that EPR varies between countries, according to Dominic Hogg, director of Equanimator and former Chairman of Eunomia. This could, in part, be attributed to the difficulty of actually defining 'recyclability' – the criteria by which fees tend to be varied, and another challenge that could perhaps be addressed with global joint action.
Overall, it seems that what players from across the packaging value chain are calling for is clarity when it comes to EPR. The UK Government's revisions to its EPR point to both the potential challenges and potential rewards of implementing such schemes. The attention will therefore be on future revisions to the UK's EPR – as well as on EPR schemes internationally – to provide greater transparency for the producers it will obligate to take responsibility going forward.