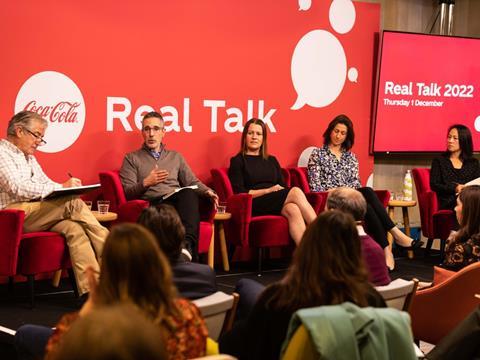 Focused on the principles of reduce, reuse and recycle, Coca-Cola Great Britain's Real Talk event took place at the company's London office on the 1st December. Tony Juniper CBE moderated two panels with representatives from organisations including CCEP, McDonald's, WWF and WRAP. Frances Butler reports.
Panel 1 – Collaboration, current challenges and future sustainability targets
The first panel featured Joe Franses, vice-president of sustainability at Coca-Cola Europacific Partners (CCEP); Nina Prichard, head of sustainable and ethical sourcing at McDonald's UK and Ireland; Lucinda Langton, head of sustainability at M&S Food; and Paula Chin, senior policy adviser on consumption at World Wildlife Fund (WWF). The panellists discussed topics including collaboration, company sustainability targets, consumer behaviour and the need for a shared message across multiple industries.
One point repeatedly mentioned throughout the panel was the need for collaboration. Joe Franses emphasised Coca-Cola's support of introducing a DRS [Deposit Return Scheme] in Scotland in 2023, and a similar scheme in England and Wales in the future.
He stated that packaging constitutes 40% of total value chain emissions for the company, which has shifted to using 100% recycled plastic in its bottles of 500ml or less in Great Britain. He highlighted the need to build consumer confidence in recycling, saying: "if you give packaging a value, it will come back."
Franses added the priority for the business is aiming towards collecting a bottle or can for every one it sells, aiming to achieve 25% of its reuse goal by 2030. He noted the importance of collaboration, saying the size and scale of the system shift needed comes from state and non-state actors, and business has a huge role to play with speaking to consumers and policy makers.
He said:
"We don't have a choice. Business as usual, long term, is not an option."
Nina Prichard outlined McDonald's' Plan for Change sustainability strategy in the UK and Ireland, including aims for customer packaging to be made from renewable, recyclable or certified sources by 2024; restaurant packaging to be recycled or composted, and to have 100% paper cutlery across the estate.
She added that the company seeks "the expertise of others to help us as a brand" on the journey to find what making the process easier looks like for consumers, mentioning the brand's partnership with Costa in July this year for a cup recycling scheme and noting infrastructure as a key factor.
Speaking on behalf of M&S Food, Lucinda Langton listed several of the company's targets: remove one billion units of plastic by 2027 (around 30% reduction in volume); achieve 100% recyclability by 2025; achieve 50% recycled content across all materials by 2025; and initiatives that have already been completed, such as implementing Plastic Takeback schemes across all M&S owned stores and having 15 'Fill Your Own' stores.
In these stores the consumer can buy the same products for a lower price if they bring their own packaging. Langton stated the company's big challenge when aiming for these targets is data, due to the number of suppliers. She also mentioned the paradox between packaging and carbon emissions, as moving away from packaging could mean increase carbon.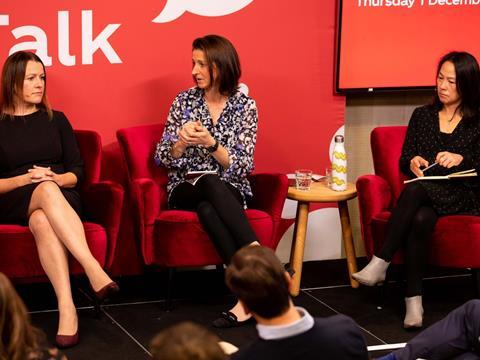 Juniper commented on the shift to zero waste, stating that brands, policy makers, waste collection systems, manufacturers of raw materials and consumers all need to be working together.
However, WWF's Paula Chin pointed out that immediate short term pressures can distract from the larger issue of the climate crisis, saying it can sometimes be like "moving chess pieces around" – for example, the switch from paper bags to plastic bags, then back to paper bags again.
She explained that businesses are in a difficult position because of policy reviews, delays to policies in the industry and fragmentation from other issues such as the current cost of living crisis.
Juniper asked what could help with all the "spokes of the wheel" needed for a circular economy, and Chin suggested conversations with DEFRA about EPR [Extended Producer Responsibility] and DRS, stating we need to be "ambitious and future proof" as well as incentivising reuse.
She also questioned whether DRS and EPR could become policy mechanisms, suggesting DRS being part of global treaty negotiations, such as a system where someone travelling from one part of the world to another could buy a bottle in one country and place it into a DRS system in their destination country.
Chin said:
"I think consumer behaviour is a product of the systems we are presented with."
She reasoned it was because "we've created a system that is so dependent on single use, we need to find a way to leverage technology and global systems to adopt practices around reduction."
Chin added that when it comes to consumers, while those in the industry are involved in these details every day, the average person might not understand. "They want a bottle or can of coke because they want that lift, they enjoy it, and then they want to be able to dispose of it easily."
Panel 2 - Consumer Behaviour
The second panel focused on consumer behaviour with Juniper asking WRAP's Catherine David and Behaviour Change's David Hall questions including what the main drive behind recycling is, and whether for a systems level view, collaboration or leadership by one group is dominant.

David cited removing plastic from food reduces plastic and food waste, giving the example of Ocado redesigning its packaging for steaks with 50% less plastic.
She also mentioned the reuse and refill working group as part of the European Plastic Pact, adding that well-designed policy and collective action will help to develop the blueprint for scaled up solutions.
Hall stated the need to help people understand what they can do, saying "the design of the system is at the heart of people's behaviour". Juniper mentioned some "unhelpful assumptions" such as moving to renewables being more expensive than coal and gas, to which Hall replied the costs of more sustainable options are comparable to current ones, but ideally cheaper over time.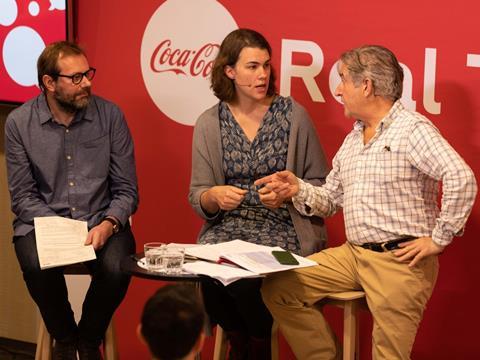 Overall, the recurring themes of the panel included collaboration (for brands, policy makers, waste collection systems, manufacturers of raw materials and consumers all working together); a pre-competitive space for brands; the need for a systems level view and change, and a single shared message.
Juniper's final question to the speakers was: "Having listened to all of this today, what would be your priority to take back to your work after this?"
Langton responded:
"We need to make it easy, we need to make it fun and we need to reward people for doing it. I think we're doing the right things, we're just not doing them fast enough."
Chin added: "Let's stop making sustainability a competitive issue, it's about humanity's survival. Let's coalesce around that, and step above it."