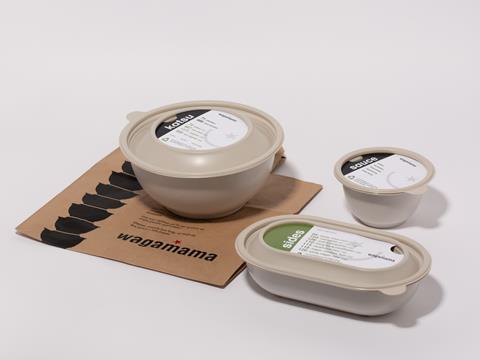 From this month, restaurant chain Wagamama will launch crystallised PET bowls developed by industrial design consultancy, Morrama, across its delivery and takeaway options. The companies say the cPET solution is recyclable with enhanced heat resistance and product protection.
Wagamama says it approached Morrama in 2021 with the goal of incorporating its sustainability targets into a new packaging design. This includes Wagamama's aim to no longer rely on 330 tonnes of virgin plastic in its delivery packaging operations every year, use materials made from 70% recycled content, and improve the team and customer experience.
According to the companies, bio-based and biodegradable materials were explored during the development process, but they ultimately decided that plastic was necessary to preserve the taste and temperature of some dishes and to ensure deliveries reached customers without leakages. Morrama says it worked alongside a thermoformed food packaging supplier to develop a solution using a new material, crystallised PET (cPET), which is reportedly recyclable.
Morrama adds that cPET is a food-safe material made from 70% post-consumer recycled content from waste streams in Europe including – among other sources – recycled PET food trays and food packaging. cPET is apparently suitable for both top sealing and flow packing.
In addition, cPET offers "excellent" heat resistance and sealing properties, as well as a highly effective barrier against oxygen, water, carbon dioxide, and nitrogen, according to the company. Morrama says this helps to reduce the risk of contamination, improves food quality, and extends shelf lives.
Jo Barnard, founder of Morrama, explains: "The 'c' in cPET stands for crystallised. This process increases the rigidity and toughness of the PET, ensuring it can withstand higher temperatures."
At present, only Wagamama's takeaway bowls will be made from the cPET material, although the companies are aiming to expand the solution to the lids as well. Barnard continues: "The goal was, and still is, to move the packaging to 100% cPET.
"However, as with doing anything for the first time, challenges in the development of the cPET lid mean that it's not ready for launch. Recognising that doing something is better than nothing, Wagamama chose to launch regardless with cPET bowls and recyclable PP lids. It's looking realistic to achieve a move to full cPET in 2023."
During the redesign of the takeaway bowls, Morrama says it considered a range of factors including how the bowls would be stacked, how to remove excess material, and how to maintain the specific qualities of different Wagamama products like crispy squid. The new packaging features a light sandy tone, which the companies explain reflects the sustainability focus of the pack while ensuring the material is more easily picked up by the scanners in recycling plants.
Kay Bartlett, customer director at Wagamama, comments: "Our new sustainable packaging range is a fantastic initiative that comes at the right time as we aim to reduce impact across all our operations.
"We spent months exploring various options, trialling and testing different materials, and working with leading experts in these fields. Morrama truly understood our values and goals for this project, and helped us make it a reality."
The new Wagamama packaging will be rolled out this month. The restaurant chain expects the new packaging to be live across all restaurants and delivery kitchens by October once the old stocks are used up.
Other novel takeaway packaging formats include Just Eat's trial of a seaweed-based food box from Notpla. After the pilot of this solution, 83% of consumers reported that brands' use of sustainable packaging would affect their choice of restaurant, according to Just Eat.