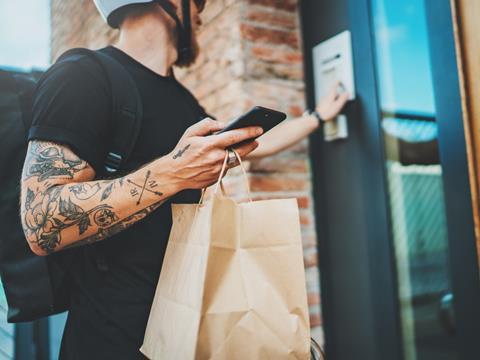 Deliveroo has launched a £2.5 million fund intended to provide its partners with a 50% subsidy on the cost of sustainable packaging and assist them in reaching their sustainability goals; it is hoped that the scheme will save over 400 tonnes of single-use plastic from landfill.
The subsidy apparently applies to all 'environmentally friendly' packaging items from Deliveroo's packaging store, which includes any item marketed as being home-compostable or made from recycled paper, recycled plastic, or cardboard. Deliveroo claims that it will explore alternative options for products where an easily recyclable or compostable alternative does not yet exist.
Restaurants that are considered eligible for the scheme will reportedly receive an email containing a voucher code to be used on the store's website. Small-to-medium-sized enterprises with the highest sales and packaging footprints over the past twelve months will be the first to receive the subsidy, with unused codes set to be redistributed to new restaurant partners.
Implementing the subsidy is expected to save an estimated 403 tonnes of plastic, apparently enough to fill around 25 trucks, from landfill – and Deliveroo's packaging supplier will supposedly offset 1500 tonnes of CO2 emissions, said to be the equivalent of the annual emissions for over 300 standard cars.
Similar initiatives were successfully implemented in Hong Kong, the company claims, and this one is plans to launch in France, Italy, and Belgium in weeks to come.
Paul Bedford, director of Policy & Sustainability at Deliveroo, said: "Sustainable food packaging is really important to Deliveroo and this multi-million pound investment will play a crucial role in helping our partners make greener choices. By subsidising greener packaging, we're underlining our commitment to reimagining packaging, reducing waste, and lowering our carbon footprint."
Ismael Munoz, operations lead at London-based Mexican restaurant Taqueria, added: "When we first started our sustainability journey, our requirements were unique; environmentally friendly packaging which transports a taco to a customer's door securely. The Deliveroo team took on the challenge with open arms and delivered the right packaging for us, one that now most Mexican takeaway places use."
A partnership between Again, Karma Kitchen, and various meal delivery platforms and restaurant chains sought to test localised doorstep at-home collection of reusable packaging in central London. The scheme was a recent recipient of Hubbub and Starbucks' Bring It Back fund.
Back in the summer, Wagamama launched its crystallised PET bowls designed by Morrama to package its delivery and takeaway options, while HelloFresh's Systematic Cooling Concept, thought to optimise the efficiency and thermal performance of its recipe boxes, was a finalist in the 'E-commerce' category at this year's Sustainability Awards.