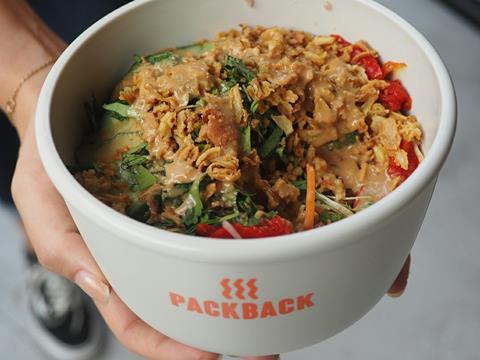 It's safe to say that the boom in the food delivery market, which was evident even before the emergence of the COVID crisis, has led to extreme changes in terms of how the entire foodservice industry operates. Packaging has not been unaffected, with these changes encouraging design rethinks – primarily in the realms of functionality and sustainability.
So, how does one of the leading players in this market, Just Eat, hope to cope with these considerations? We spoke with its sustainability director, Robin Clark, to find out.
---
To start us off, could you introduce Just Eat's overall packaging sustainability philosophy to us?
Just Eat Takeaway.com is committed to building a more sustainable future for the food delivery industry, using our reach and expertise to help our restaurant partners adopt more environmentally friendly products and practices. We know that the environmental and social footprint of our business goes far beyond our own operations and that we have an unparalleled opportunity to influence others across the dynamic and diverse takeaway industry.
Improving the packaging used to deliver food to homes is a great way to minimize the environmental impact of our operations, even though it's an indirect part of our supply chain and out of our direct control. Our aim is to reduce the use of plastic packaging in the food delivery sector and to reduce the use of all types of packaging overall whilst also reducing the carbon footprint.
Takeaways/food deliveries are often associated with excessive amounts of packaging and littering. Why do you think this is, and is Just Eat doing anything to address this perception?
We at Just Eat Takeaway.com have already taken several positive steps to drive a change across our network – from removing single-use plastics from our restaurant webshops and pioneering the use of plastic alternatives like seaweed with British startup Notpla.
We are also excited to be running a number of reusable trials across Europe: In Berlin, we are in partnership with reusable deposit system REBOWL, in the Netherlands we are partnered with PackBack and in the UK with ClubZero. These trials are set up to learn more about re-use habits for both consumers and restaurant partners. Feedback from these will help partners to build the best possible options for the future.
In terms of Just Eat's overall packaging strategy, how high does sustainability rank as a priority in relation to other concerns such as protection and functionality? How do these different considerations function in tandem?
First, I think it's good to elaborate on what sustainability means within our business. At Just Eat Takeaway.com, sustainability refers to carrying out business activities in a responsible way, mitigating our impact on the environment and positively impacting stakeholders and communities.
We have set this out with measurements, disclosure and reports covered in our Responsible Business Report. Whilst we only sell a very small amount of packaging directly to our partners, we can help drive innovation. Clearly any new product must first deliver on functionality and then we have to find a way to be more sustainable.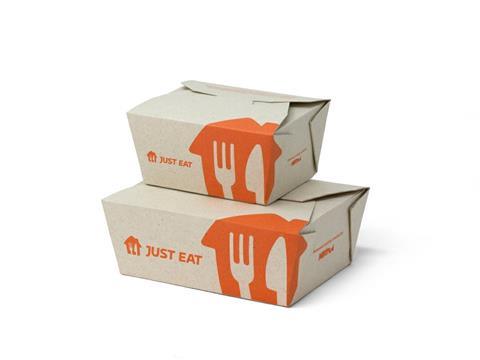 In recent years, you've partnered with Notpla on a couple of packaging innovation trials. Could you tell us about them, any learnings you gained from the process, and any plans that you have to scale these solutions?
We're working with sustainable packaging innovators on solutions that could be commercially viable and scalable. One example is our partnership with start-up Notpla, with whom we've trialled seaweed sauce sachets in the UK and developed a recyclable and home compostable seaweed-lined takeaway container for restaurants.
Since 2018 we've partnered on four pilot projects, including a government-backed trial of seaweed sachets where we also partnered with Unilever, and a seaweed food box pilot in the UK. After the pilot, 90% of restaurants and 96% of Just Eaters said they were happy with the packaging. Critically, 83% of consumers who used this packaging said restaurants' use of sustainable packaging would affect their choice of restaurant. This container will soon be available on our web shops in the UK and The Netherlands, and we're busy developing plans to scale globally.
We're exploring in detail the viability of packaging reuse in the takeaway sector. We're trialling schemes in the UK, The Netherlands and Germany to investigate and overcome some of the challenges with reusing food takeaway packaging.
In September, it was announced that Just Eat is partnering with CLUBZERO to trial reusable packaging. Could you talk a bit about this trial and unpack its potential?
In London, we've teamed up with CLUBZERØ and kicked off a trial, starting in September this year, of a highly convenient packaging return system. This trial will help assess how best to roll the service out more widely so that with the support of both customers and restaurant partners, we can continue to tackle plastic pollution across the sector.
The takeaway sector has a number of big challenges to re-use such as the infrequency of contact between customer and restaurant. It's great to be able to work with partners to see how we can overcome these issues.
CLUBZERØ's reusable food boxes use up to 50% less CO2 than plastic-coated boxes and are fully recyclable.
As a brand, if you could send a message to the packaging industry on the topic of packaging sustainability, what would it be?
We need more innovation, and we need legislation to drive new business models. It's no surprise that Germany leads re-use where restaurants have to offer a system.