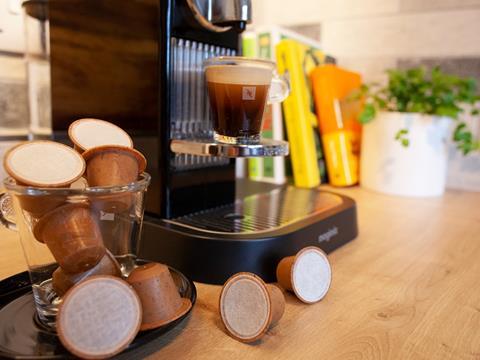 Solinatra has announced that its plant-based coffee capsules have been certified as industrially compostable by TÜV Austria.
Made from a plant-based, injection-moulded biopolymer, the capsules are said to avoid all ingredients derived from fossil sources. They are now certified as industrially compostable at end-of-life and are also claimed to be biodegradable, reportedly leaving no microplastics behind in the process and resulting in high-quality fertiliser.
Additionally, they are said to have high oxygen barrier and water vapour properties, and are designed for convenience. While plastic and aluminium capsules require the removal of their lids and remaining coffee grounds for washing and recycling, Solinatra's can apparently be thrown away in food waste collection streams for easy disposal.
According to the company, over 70 billion single-serve coffee capsules were sold worldwide in 2022 – enough to circle the planet 51 times.
"We've developed our natural and plant-based materials to be the solution to fossil-based, polluting plastics," said Robert de Jong, CEO at Solinatra. "The certification is confirmation that Solinatra is the truly sustainable choice."
Solinatra was launched by Coda Group, now Rosira Group, back in 2021. It pursued its goal of replacing plastic and aluminium coffee pods as Gordon St Coffee utilised the biopolymer in its own Nespresso-compatible capsules.
This year, Danimer Scientific, Inc. and TotalEnergies Corbion unveiled their own TUV-certified home compostable coffee pod biopolymer, apparently adhering to upcoming EU legislation surrounding the biodegradability of packaging.
ALPLA's Blue Circle brand has also designed recyclable, biodegradable coffee capsules that apparently offer improved barrier properties, prevent odour migration, and provide a tasteless alternative to single-use pods.
If you liked this article, you might also enjoy:
McDonald's Director of Sustainability in Europe on the company's approach to packaging sustainability
McKinsey on whether or not on-pack sustainability claims affect consumer spending
Perspectives from industry-leading experts on the EU's Packaging and Packaging Waste Directive revisions
A deep dive into the most important packaging sustainability trends and solutions