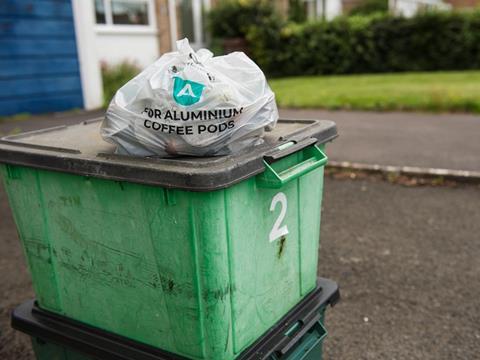 Over one million UK households are now able to recycle used coffee pods at kerbside through Podback's recycling scheme, the company claims, with the London Borough of Havering becoming its latest partner and East Ayrshire its first Scottish partner within the last month.
Podback states that 1,078,600 households across sixteen local authorities in the UK can now dispose of their aluminium and plastic coffee pods alongside other household waste and recycling in kerbside recycling. The London Borough of Havering is the second London authority to provide a kerbside recycling service for coffee pods, while over 1,200 households in East Ayrshire have registered for Podback's collection service within the first two weeks of its introduction.
Podback's reprocessing partners handle all collected coffee pods within the UK. The aluminium pods are used to manufacture beverage cans and other new metal products, while their plastic alternatives become supermarket crates, furniture, and other plastic items.
Meanwhile, the used coffee grounds enter anaerobic digestion to produce biogas and soil improver.
"In a little over two years since Podback's launch, we have made significant progress in our journey to ensure that every coffee pod enjoyed is recycled," said Rick Hindley, executive director of Podback. "This month marks another exciting milestone, with over 1 million households across the UK now able to use our kerbside service."
Nestlé and Jacobs Douwe Egberts UK launched Podback in April 2021. Cheltenham Borough Council and South Derbyshire Council were the first local authorities to adopt the scheme and enable the kerbside collection of coffee pods.
Now over twenty brands are working with Podback, including Nespresso, NESCAFE Dolce Gusto, Tassimo, L'OR, and Aldi. Their participation provides a single recycling scheme for used plastic and aluminium pods, with 57% of consumers open to switching to a coffee brand that offered a free recycling service, according to new polling by Podback.
Three further local authority partnerships are set to be launched before the end of November 2023, a move expected to provide over 1.3 million households with access to the Podback service by the end of the year.
Karen Watson, Cheltenham Borough Council, added: "We are proud to have been one of the first local authorities to partner with Podback back in April 2021. Our residents have loved how easy it is for them to recycle their coffee pods alongside their everyday household recycling and our elected members have also been impressed by the service."
The announcement follows Morrisons' partnership with Podback, which intended to introduce a convenient drop-off service for coffee machine pods in twenty-nine of its stores.
Sainsbury's has also packaged its entire own-brand coffee pod range in aluminium in the hopes of enabling home recycling and keeping ten million pieces of plastic out of landfill annually.
If you liked this article, you might also enjoy:
The L'Oréal approach to packaging sustainability
What steps is Apple taking to make its packaging more sustainable?
How did Brazil achieve its 100% aluminium can recycling rate – and can it be replicated in the EU?
Experts have their say on the EU's Packaging and Packaging Waste Directive revisions
Also, if you're interested in packaging sustainability, you will want to attend our Sustainable Packaging Summit in Amsterdam on 14-15 November. The Summit brings together leaders and pioneers from across the industry to align strategically, learn, network, and create a critical mass to accelerate change. You can learn more by clicking here, and you can buy a ticket to attend here.