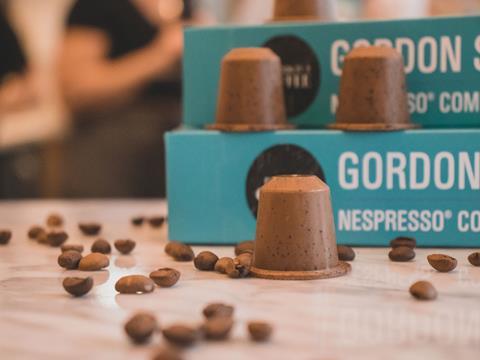 Gordon St Coffee announces its new Nespresso-compatible capsules made from Solinatra, a biomaterial alternative to single-use plastic.
According to the company, the new capsules are both biodegradable and compostable. It adds that the capsules are suitable for food waste and garden compost bins.
The capsules reportedly break down in the same time frame as a banana skin and leave behind "zero contamination" or microplastics.
Gordon St Coffee adds that Solinatra uses the by-products of harvested crops to create a material that apparently looks and feels like plastic. In addition, the biomaterial is made in the UK from UK crops, the company says, allegedly reducing its environmental footprint compared to traditional, fossil fuel-based plastics.
The company says that over 60 billion coffee capsules are consumed each year worldwide. It further claims that, while some coffee capsules are marketed as compostable, most are made from multiple layers of material and contain plastics or aluminium.
Coffee capsules on the UK market are often only industrially compostable and do not always reach specialist recycling centres, according to the company. Gordon St Coffee claims that its new Solinatra range is the "first truly sustainable" coffee capsule on the UK market.
The Solinatra material was initially launched by biomaterials manufacturer Coda Group earlier this year. Apparently suitable for a wide range of applications as well as coffee capsules, Solinatra has been highlighted as an "exciting innovation" for sustainable packaging.
The new capsules are available to purchase from Gordon St Coffee's roasteries in Glasgow and Edinburgh or online from the company's website. The capsules come in packs of ten, at a retail price of £5, and are also available as a subscription.