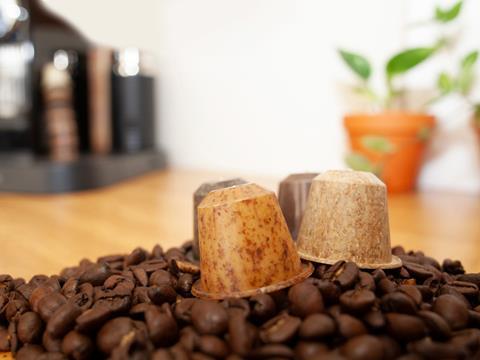 Biomaterials manufacturer Coda Group has launched Solinatra – a home-compostable material made from agricultural waste that the company says can be used to replace plastic and aluminium coffee capsules.
Over 60 billion coffee capsules are consumed globally each year, and many of these are currently made from layers of plastic or aluminium. According to Coda, while most capsules are technically recyclable, only a small proportion actually make their way into recycling streams.
Coda's own solution is home compostable – reportedly breaking down in the same time frame as a banana skin and leaving behind zero contamination. Manufactured from 100% plant-based materials sourced from agricultural waste products, the company is pitching Solinatra as a low-carbon solution that can help coffee brands and consumers to reach net-zero goals.
Following a presentation and Q&A at the AMI virtual summit, Simon Girdlestone, head of sales and marketing at Coda Group, says: "Biodegrading in the same time as a banana skin, Solinatra is a revolutionary new material. Our innovative new biomaterial is a gamechanger for coffee brands and capsule manufacturers worldwide, and we are excited to lead the charge for truly sustainable production.
"Currently consumers face a postcode lottery as to what recycling or composting opportunities are available to them, with Solinatra customers can be safe in the knowledge that their coffee capsules cause no harm to the environment no matter how they are disposed of."