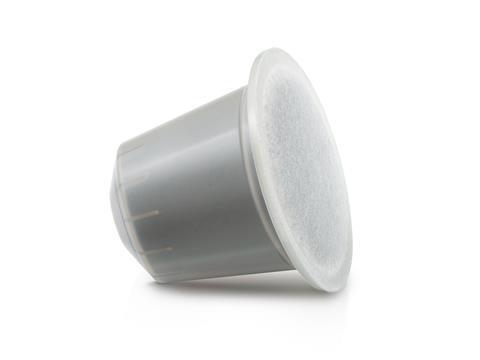 ALPLA's Blue Circle brand has designed recyclable, biodegradable coffee capsules that claim to offer improved barrier properties, prevent odour migration, and provide a tasteless alternative to single-use pods.
The capsules are paired with a sealing foil in a certified system thought to minimise the migration of the coffee's scent into the environment. A newly developed, food-contact material is injection-moulded using ALPLA facilities to create the capsules, which aim for optimal compatibility and handling by replicating the established Blue Circle design.
TÜV Austria has awarded the entire pack – including its sealing foil and contents – its 'OK compost HOME' and 'OK compost INDUSTRIAL' certification marks.
Claiming to be compostable, consumers can reportedly place their used capsules directly into their home compost or, where industrial composting is available, throw them away via organic waste bins. They are designed to enable coffee suppliers, wholesalers, filling companies, and roasting plants to conserve resources and transition into environmentally-friendly packaging designs.
"Around the world, consumer behaviour is becoming more and more sustainable," explains Nicolas Lehner, CCO at ALPLA. "We see ourselves as pioneers and are developing the packaging solutions of the future. With the biodegradable coffee capsule, we are not only helping our customers achieve their sustainability targets, but are also acting in line with the new EU Packaging Regulation, which will require compostable solutions for individual coffee portion packaging in the future.
"The combination of the material, design and production process is key to the capsules' stability, leak tightness and barrier. Our technological expertise and experience result in the optimum solution for unadulterated enjoyment."
Danimer Scientific, Inc. and TotalEnergies Corbion recently worked together to produce a TUV-certified home-compostable coffee pod biopolymer; and Sainsbury's transitioned its own-brand coffee pod range into 'home-recyclable' aluminium packaging last year.
More generally, a study published in The Conversation suggests that single-use coffee pods produce lower greenhouse gas emissions than filter, French press, and instant alternatives.
If you liked this article, you might also enjoy:
McDonald's Director of Sustainability in Europe on the company's approach to packaging sustainability
McKinsey on whether or not on-pack sustainability claims affect consumer spending
Perspectives from industry-leading experts on the EU's Packaging and Packaging Waste Directive revisions
A deep dive into the most important packaging sustainability trends and solutions