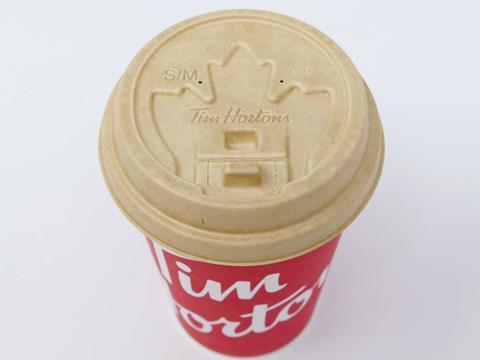 Tim Hortons is seeking to improve its packaging's recyclability by trialling a fibre alternative to its single-use plastic hot beverage lids, amongst other transitions into renewable and recyclable packaging materials.
The trial will run in the City of Vancouver for around twelve weeks, with the new fibre lids – said to be both plastic-free and recyclable – seeking improved sustainability without sacrificing a positive consumer experience.
Additionally, the company is set to make the transition to fibre lids permanent for its Loaded Bowl packaging in its locations across Canada. It has also redesigned its breakfast and lunch wrapper to eliminate 75% of the material from its previous wrap box – a move expected to save over 1,400 tonnes of material every year.
The change comes in light of the Canadian federal government's ban on the import and manufacture for sale of single-use plastics, which came into effect in September 2022. The legislation rules out foodservice items that contain or are entirely made from hard-to-recycle plastics, including drink stirrers, straws, and cutlery – the latter of which will now be made from wood or fibre at Tim Hortons establishments in a bid to save 90 million single-use plastics a year.
As the ban also prohibits single-use plastic bags, the company is providing its customers with reusable bags to purchase.
"Through our sustainability platform Tims for Good, we're always looking for ways, big and small, to make thoughtful choices on material and design in order to reduce and eliminate packaging and contribute to more sustainable innovation," says Paul Yang, senior director of Procurement, Sustainability and Packaging at Tim Hortons.
Stora Enso provided its own solutions to plastic foodservice packaging last year, including the Cupforma Natura Aqua+ material for paper cup lids and, in a collaboration with Picadeli, PureFiber formed fibre lids for takeaway packaging.
PulPac also worked alongside HSMG to enhance its Dry Molded Fiber technology with plant-based water and oil barriers; the resultant material was expected to be applied to coffee cups, alongside other packaging types, with the aim of ensuring their recyclability.