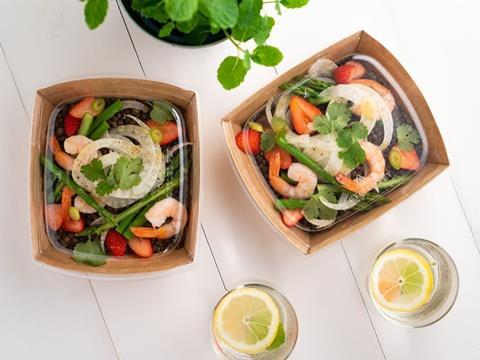 Sabert Corporation Europe is presenting two of its food-to-go tray solutions and a range of paper cutlery – all claiming to be fully recyclable – at the annual Lunch! show.
Lumina Intelligence's Food to Go Market Report suggests that the food-to-go category increased by +31.7% in 2022 to a value of £21.4 billion – and it is expected to grow by a further 4.1% this year. In a celebration of its 40th anniversary, Sabert will display its latest food-to-go solutions at this year's show at ExCel, London, on 27th and 28th September.
Aspiring for maximum functionality, Snap2Go range is designed to offer a minimalistic, aesthetically pleasing design, with its clear rPET clip-lids intended to facilitate food visibility and a strong fit. The one-hand closure is set to help consumers open the pack with ease.
According to Sabert, the range is moisture- and grease-resistant, fully recyclable, and 100% made in Europe. Its four stackable and nestable base sizes – 375ml, 500ml, 750ml, and 1000ml – are all made from FSC-certified paper, and its two lid sizes apparently contain a guaranteed minimum of 50% recycled content.
Bespoke designs and sizes with fully customisable print are also offered to customers to personalise on-pack logos, messages, and branding. Snap2Go is recommended for chilled meals and food-to-go applications.
Another range, Deli2Go, is tailored to hot and cold foods. This board tray range is also produced in Europe, Sabert says, and serves as a stackable, nestable, grease-resistant, and refrigerator-friendly solution.
Both the tray and lid claim to be fully recyclable and, like Snap2Go, the range features high-visbility lids with a one-hand closure – this time in one common size made of polypropylene. Deli2Go is available in four popular sizes.
Meanwhile, Sabert will also display its new patented recyclable paper cutlery. It comes with full FSC chain of custody accreditations and is fully recyclable in the paper waste stream, the company says.
Described as strong and robust, it apparently performs well with stiffness and cut quality when applied to hot and cold foods. Each piece is designed to be the optimal length for handling and a pleasant smooth feel.
Clive Pickerill, UK&I sales manager at Sabert, says: "For many operators, food-to-go represents their biggest opportunity and we'll be showing some of our latest innovations aimed at the sector at the Lunch! show.
"On show will be our recently launched Snap2Go, and Deli2Go ranges, plus our sustainable paper cutlery. In each case, our focus is on making food look great, while also putting the emphasis on offering best value, coupled with best functionality, and best-in-class sustainability credentials.
"At Lunch!, Sabert will be celebrating 40 years of providing innovative, value-added products to the highest quality standards, supported by outstanding customer service. Our mission is to offer our clients the best guarantees in terms of quality, safety and service."
"Visit stand L833 at the annual Lunch! show at ExCel, to discuss all your food-to-go packaging needs," adds managing director Alex Noake. "As a consultative business, we can ensure that operators are using the perfect packaging solutions to best fit their business, while helping them to improve their sustainability credentials."
In another recent development, Graphic Packaging International and Picadeli unveiled a new range of snap-closing paperboard lids for its paper-based salad bowls – seeking to cut 250 metric tons of plastic from Picadeli's supply chain every year.
Ahlstrom and The Paper People have also revealed a new line of certified recyclable, fibre-based packaging for frozen food applications with the aim of replacing traditional, fossil-based plastic and films.
If you liked this article, you might also enjoy:
The Lidl approach to packaging sustainability
How did Brazil achieve its 100% aluminium can recycling rate – and can it be replicated in the EU?
Experts have their say on the EU's Packaging and Packaging Waste Directive revisions
A deep dive into the most important packaging sustainability trends and solutions