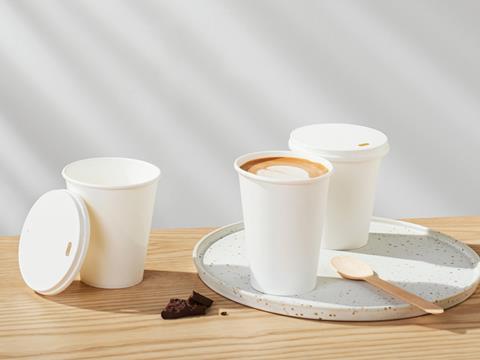 Stora Enso says its new Cupforma Natura Aqua+ material is optimal for converting into paper cup lids for foodservice applications, while offering recyclability in the same stream as paper cups and compostability in industrial settings.
According to Stora Enso, the new Cupforma Natura Aqua+ material is lightweight, sturdy, and able to withstand the heat and moisture of hot beverages. The company adds that the material provides "excellent" haptics, while being easy to apply and secure tightly to paper cups when used as paper lids.
Stora Enso explains that the material features a double-sided, water-based dispersion – which is fluorochemical-free and apparently replaces a traditional plastic later – optimal for converting into paper cup lids. The material reportedly does not absorb liquid during use, adding to its suitability for foodservice applications.
The underlying paperboard, Cupforma Natura, is made from renewable, sustainably sourced wood fibre, the company says.
In addition, the company claims the material is fully recyclable, with paper cup lids produced from the new Cupforma Natura Aqua+™ material able to be recycled with paper and board. The material is apparently also compostable in industrial settings.
Tuomas Puonti, vice president of foodservice boards at Stora Enso Packaging Materials, comments: "By offering this highly functional fiber-based recyclable material for paper cup lids, we continue to make solid progress in minimising plastic in foodservice packaging.
"The impact of lids is significant; our recent LCA study shows that more than 50% of the total climate impact of a take-away coffee cup comes from the plastic lid. This can change now."
Stora Enso adds that Cupforma Natura Aqua+ is highly convertible and requires no modification to existing lines. The lids are printable, which means brands can customize them as desired, such as including a logo.
Cengiz Avci, division director of Aspect CPM, a supplier of Cupforma Natura Aqua+-based lids, says: "This appeals to customers as it meets their sustainability objectives to have both a recyclable paper cup and a lid.
"Having both being made from the same aqua-coated board is a step in the right direction for them. The reaction has been very positive.
"Customers are impressed by the quality of the material and how it reacts to hot drinks and we now see that an aqua-coated product works well."
Stora Enso is a member of Pulpex, a consortium aiming to make its paper bottle solution "a scalable and cost-efficient alternative to existing solutions".