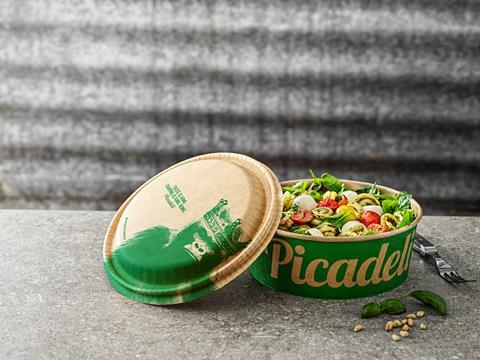 Graphic Packaging International and Picadeli hope to eliminate an annual 250 metric tons of plastic from the latter's supply chain with a new range of snap-closing paperboard lids for its paper-based salad bowls.
Set to replace the entire line of plastic lids from Picadeli's packaging line, the lids are apparently made from renewable, plant-based fibre sourced from sustainably managed forests and claim to be recyclable in household paper waste streams.
The pack as a whole is also designed to be completely free from plastic, while the lids' snap closure system aims to improve their functionality and meet consumer demands.
Messages have also been printed onto the lids in a bid to encourage consumers to engage with the brand. These have apparently been optimised to ensure that the design remains rigid in both chilled and moist environments.
"Everything we do, we do for our customers, and so it's always pleasing to develop innovations that deliver on our customers' expectations so emphatically," said Åke Larsson, managing director of Graphic Packaging Tibro AB. "The new lids offer the functionality required for Picadeli to eliminate plastic salad bowl lids from their supply chain. They also offer great branding benefits via high-quality printing onto the lid using water-based inks.
"We're honored to play a part in the sustainability efforts of brands like Picadeli. Only by developing truly excellent fiber-based packaging can we help to make a difference to our planet, and it's a challenge that everyone at Graphic Packaging is proud to rise to."
"We value the health of our planet as much as we value healthy eating," added Henrik Åkerman, head of sourcing and supply chain at Picadeli. "We are committed to preserving as many of our planet's precious resources as possible, while also producing high-quality, functional packaging for our consumers to enjoy.
"With that in mind, we are delighted to introduce this new lid to our packaging. It fulfills all our needs and helps us reduce the amount of plastic in our portfolio, in line with modern consumer demands."
Earlier this summer, Walki Group invested in Finnish start-up The Paper Lid Company and its method of manufacturing recyclable paper lids.
A recyclable rPET clip-lid with anti-fog and high-visibility features has also been implemented into Sabert Corporation Europe's new Snap2Go tray for chilled meals and food-to-go outlets.
Additionally, Stora Enso partnered with Picadeli last year to introduce what claimed to be recyclable and biodegradable formed fibre lids into its packaging.
If you liked this article, you might also enjoy:
McDonald's Director of Sustainability in Europe on the company's approach to packaging sustainability
McKinsey on whether or not on-pack sustainability claims affect consumer spending
Perspectives from industry-leading experts on the EU's Packaging and Packaging Waste Directive revisions
A deep dive into the most important packaging sustainability trends and solutions