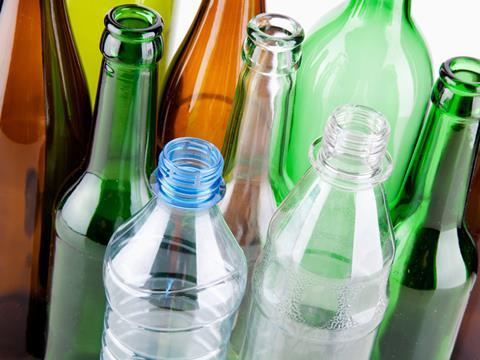 Last week, Scotland announced its new Deposit Return Scheme which will include aluminium and steel cans as well as drinks containers made of glass and Polyethylene terephthalate (PET) plastic with a 20p deposit. The scheme aims to capture 90 per cent of containers which attract a deposit for recycling.
All kinds of drinks in these containers and all containers above 50ml and up to 3 litres are included. The scheme will be 'widely accessible', with all shops selling drinks offering deposit refunds to customers, and schools and other community hubs also able to act as return locations. Online retailers are also included in the scheme, to ensure it is accessible to those who are dependent on online deliveries. Once implemented, the scheme will be run by an independent, not-for-profit entity.
There will be two ways consumers can return their empty containers – over the counter, or by using a reverse vending machine (RVM), which scans containers when they are returned and then refunds the deposit.
"There is a global climate emergency and people across Scotland have been calling, rightly, for more ambition to tackle it and safeguard our planet for future generations," said Environment Secretary, Roseanna Cunningham, following the announcement of the scheme.
"I am therefore delighted to confirm that I intend to implement a system covering PET – the most common form of plastic packaging – aluminum and steel cans, and glass, with a deposit refund set at 20p.
'A blueprint for a world-class scheme'
Zero Waste Scotland has been providing advice to the Scottish Government on the development of the scheme. It says its research on best practice covered schemes operating in Europe, North America, Iceland, Australia, California, Maine and British Columbia. It found that 'the best performing schemes capture in the region of 90 per cent of included materials for recycling' – hence the above-mentioned target set by the Scottish Government.
There is still, of course, a debate to be addressed around the question of deposit schemes vs. kerbside collection. One of the main problems seems to be the deposit amount – too high, and you risk consumers being put off. There is also the question of raising awareness of the scheme and ensuring people know how it will work and why it is necessary. Consumers can often be wary of something new. It will be important for the Government to invest in information on packaging, as well as a public awareness campaign.
But Zero Waste Scotland seem confident that this scheme will have its intended effect. "Scotland's Deposit Return Scheme is a blueprint for a world-class scheme and I'm proud of the work that Zero Waste Scotland has done to support the Scottish Government in designing it," said Jill Farrell, COO, Zero Waste Scotland.
"The scheme builds on the success of deposit return elsewhere in Europe, while recognising Scotland's unique needs as a country. Deposit return is proven to increase recycling rates and we are keen that Scotland replicate that success. That's why the scheme will aim to capture 90% of the materials included.
Reactions
The announcement has had a fairly positive reception – for example from Norway's TOMRA Collection Solutions, which commended Scotland for its action.
"Based on our global experience we fully support the deposit return scheme format announced today by the Scottish Government," said Truls Haug, managing director of TOMRA Collection Solutions UK & Ireland. "Creating a scheme that makes it as easy to return as it is to buy will help see the return of over 90 per cent of drinks containers for recycling within just two years of being introduced in Scotland."
He added: "This type of scheme – with as few restrictions as possible, which is convenient and easy to use – will achieve the best return rates in our experience.
"For that reason we welcome the inclusion of glass in a DRS for Scotland. I can confirm that TOMRA will have a small footprint machine for convenience stores that can accept PET, can and glass ready for the Scottish rollout. This will have an even smaller footprint than those being trialled in Scotland today. A deposit of 20p is also good news as a higher deposit value makes a difference in motivating consumers to return containers."
There have, however, been some more tempered responses. The Scottish Environmental Services Association, for example, questions whether the new scheme has the correct focus.
"We see considerable merit in a well devised and properly implemented deposit return scheme but are disappointed that the announced scheme bears little resemblance the common, cross-cutting views expressed by many different sectors through last year's public consultation," said SESA policy advisor Stephen Freeland. "We suspect that the Scottish Government has missed a trick: a scheme focused on 'on the go' drinks containers would target those containers most likely to be discarded as litter, while limiting the negative impacts on Scotland's existing, well established kerbside collections systems."
Going further, he wonders whether Scotland may have 'jumped the gun' a little by introducing its own scheme rather than waiting for a UK-wide scheme to be implemented. (A viewpoint which to some extent, of course, plays into wider questions around the ongoing question of whether Scotland will remain part of the UK.)
"It is clearly unfortunate that the Scottish Government has opted to go it alone, with a single-UK wide scheme now a distant prospect. This is likely to increase scheme costs, reduce efficiencies and increase the likelihood of fraud. Rather than considered in isolation, it would also have been preferable if the Scottish Government had more fully considered deposit return in the context of anticipated reforms to extended producer responsibility.
"The timescale for scheme implementation is incredibly ambitious and much stronger engagement with the waste and recycling industry is therefore needed to help ensure the practical steps are in place to help make a success of the scheme."