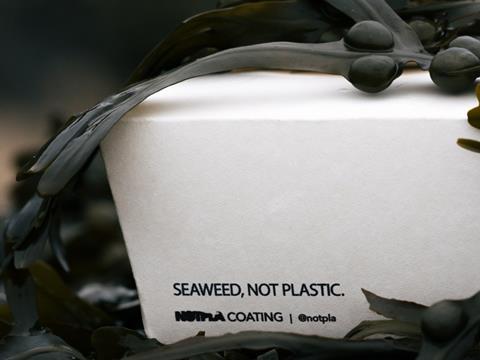 Notpla has secured a listing with Bidfood Catering Supplies to distribute its seaweed-coated takeaway food boxes to foodservice customers with the aim of cutting down on single-use plastics in food delivery applications.
Six paperboard boxes are being implemented into the Bidfood catalogue and have been designed to meet the most common shapes and sizes required in the takeaway foodservice industry. Each box is lined with Notpla Coating solution made from seaweed and plant extract.
As seaweed does not require arable land, fresh water, or fertiliser to grow, it is believed to be a sustainable natural resource.
Apparently, Notpla Coating adheres to the EU Single-Use Plastic Directive by allowing its applications to be composted at home or recycled without contaminating existing paper waste streams – thus replacing PLA, PHA, and other synthetic materials. As it is 'designed to disappear' at end-of-life, the coating is not thought to contain any plastic or "forever chemicals" like PFA, yet maintains the grease- and water-resistant qualities of conventional materials.
Therefore, the solution hopes to enable Bidfood customers to phase out their plastic-lined packaging; meet consumer demand for transparency in the materials used to manufacture their takeaway boxes; and fall in line with the upcoming ban on a range of single-use plastics in England, which comes into effect in October 2023.
"Bidfood Catering Supplies are really excited to be partnering with Notpla, launching their fantastic seaweed-lined food-to-go packaging," said Andrew Dorney, head of Catering Supplies at Bidfood. "We already boast a comprehensive range of PE, PLA and Aqueous lined board products, but by adding Notpla's innovative and exciting alternative to plastic, we're taking even greater steps to drive sustainability and provide more choice for our customers, regardless of waste stream."
Tristan Kaye, commercial director at Notpla, added: "This expansion of distribution will enable even more UK consumers to vote with their forks and choose businesses who put sustainability first, also making life simpler for those business owners ensuring they don't fall foul of October's impending legislation changes. We're delighted to be working with Bidfood who share our vision for a sustainable future and who are taking real action to make a positive change across the foodservice industry."
The packaging is available to order through the Bidfood Direct wholesale platform and aims to expand Notpla's reach to up to 45,000 caterers and foodservice companies across the UK.
Notpla's range of seaweed-based packaging formats was released last year following its use at the Women's Euro final at Wembley Stadium, the Men's Europa League final in Seville, and other sporting events – as well as a partnership with Just Eat in the UK, Ireland, Poland, Austria, Germany, and the Netherlands.
Kelpi has also received £3 million in funding from Innovate UK's Combined Investor Partnership programme to develop its seaweed-based biomaterial coatings, while Ahlstrom's FluoroFree greaseproof technology expects to benefit fibre-based packaging for popcorn, pet food, and quick service restaurant products.
If you liked this article, you might also enjoy:
McDonald's Director of Sustainability in Europe on the company's approach to packaging sustainability
McKinsey on whether or not on-pack sustainability claims affect consumer spending
Perspectives from industry-leading experts on the EU's Packaging and Packaging Waste Directive revisions
A deep dive into the most important packaging sustainability trends and solutions