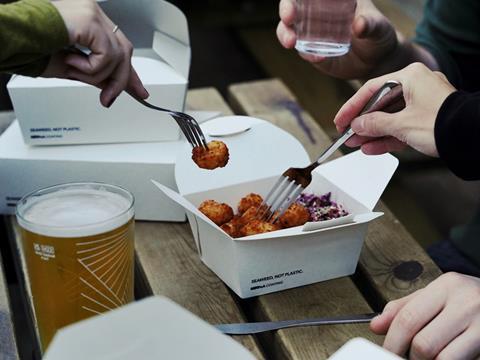 Notpla has launched a new range of grease and water-resistant packaging formats – with a plastic-free barrier made from seaweed. The solutions can either be recycled or home composted at end-of-life.
One of Notpla's partners is Just Eat, which is supplying the seaweed-coated packaging for restaurants to buy on their webshops in the UK, Austria, Poland, Germany, the Netherlands, and Ireland.
The company also led the change by offering this packaging solution at a number of football events in 2022, including the Women's Euro final at Wembley Stadium, the Women's Champions League Final in Turin, and the Men's Europa League final in Seville.
The collection, which is also PFAS-free is made of seven packaging solutions: Notpla Small, Notpla Medium, Notpla Large, Notpla Burger Box, Notpla Square Tray, Notpla Rectangular Tray, Notpla Deep Tray.
In terms of base materials, the range is available both in PFAS-free white kraft paperboard and in PFAS-free Brown Kraft paperboard.
And, in line with the EU's Single-Use Plastic Directive, which aims to ban synthetic materials such as PLA, PHA, and other bioplastics, Notpla reports that its new range biodegrades in nature in four to six weeks – without the need for industrial composting or special conditions.
The collection of takeaway packaging solutions has already received industry recognition, having been awarded 'Innovation of the Year' at the UK Packaging Award 2022, as well as the 'Innovation Award' at the Responsible Packaging Expo Awards 2022.
Pierre-Yves Paslier, co-CEO of Notpla, said: "We wanted to create an elegant range of packaging which elevates our customers' food, and is versatile enough to cater to all cuisines. Our aim is to have a maximum impact with a minimal range."