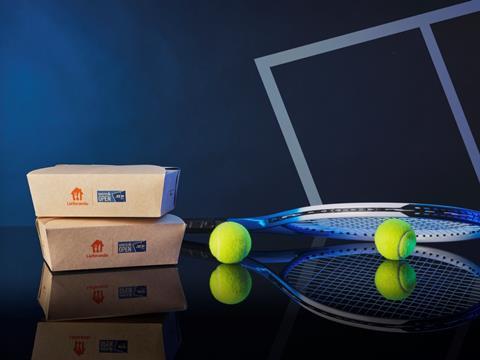 Coveris and Notpla have revealed new takeaway cardboard boxes with a plant-based barrier coating for use at the Erste Bank Open ATP 500 tennis tournament in Vienna.
Notpla's barrier coating is made from seaweed and plant extracts and is designed to replace plastic in packaging applications. According to the company, the coating naturally breaks down in 4-6 weeks at end-of-life.
Its application to the food-contact-approved takeaway boxes – which are made of certified sustainably sourced board – is set to supply them with grease and water resistance. Lieferando, the German branch of Just Eat, will distribute Notpla packaging for all seat-delivery and pick-up food services at the event via its app.
With the Vienna Open ATP 500 taking place from 23rd – 29th October 2023, sponsored by Erste Bank, the production and use of Notpla-coated takeaway boxes is expected to combat waste and align with Coveris' 'No Waste' sustainability strategy.
Pierre Paslier, co-founder and co-CEO of Notpla, stated: "We are delighted to be working with Coveris, an innovative partner supporting the acceleration of our mission to make packaging disappear. Providing our plastic-free takeaway boxes at Erste Bank Vienna Open ATP tennis competition, is a big win for the company, making the match day experiences more sustainable for both the supporters and the vendors."
"With aligning sustainability goals, we are very proud to continue our work with Notpla as their print and packaging partner for takeaway boxes," said Paul Robertson, Food-on-the-Move sales director at Coveris. "It's exciting to see the growth of Notpla internationally as they continue to address packaging waste challenges within food-to-go and foodservice sectors which also supports Coveris' sustainability vision, No Waste.
"The use of Notpla-coated boxes, manufactured by Coveris, at a major sporting event, the Erste Bank Vienna Open ATP tennis competition, is great for reaching new audiences and showcasing what we are achieving in the packaging industry."
In a previous partnership, Notpla featured its packaging at the UEFA Women's Champion League finals in Eindhoven – aiming to replace over 20,000 units of plastic in a single event.
Its further efforts to cut down on single-use plastics include securing a listing with Bidfood Catering Supplies to distribute its seaweed-coated takeaway food boxes to foodservice customers.
Meanwhile, Barclays and CLUBZERØ served customers free juice in reusable cups at Wimbledon 2023, aspiring to cut CO2 emissions in half and achieve zero waste.
If you liked this article, you might also enjoy:
The L'Oréal approach to packaging sustainability
What steps is Apple taking to make its packaging more sustainable?
How did Brazil achieve its 100% aluminium can recycling rate – and can it be replicated in the EU?
Experts have their say on the EU's Packaging and Packaging Waste Directive revisions