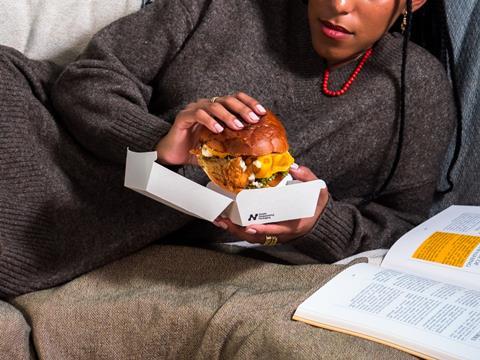 Following its assessment by the Dutch Government, Notpla's seaweed-based packaging has been recognized as plastic-free as per the EU Single-Use Plastics Directive and now hopes to replace a minimum of 15 million single-use plastic packaging units in the Netherlands.
Notpla explains that the EU Single-Use Plastics Directive defines plastic as a material made up of chemically modified and/or synthetically polymerized polymers, and nation-specific legislation has sought to ban or tax certain single-use plastic items and mandate labelling.
In the Netherlands, the government's environmental authority, ILT, takes this definition a step further – including technologies that often claim to be 'plastic-free' in other contexts, such as aqueous dispersion coating, in its classification of plastics.
After a nine-month assessment process and independent investigation by Eunomia, Notpla reports that its plant-based packaging is the first material to be recognized by the Dutch Government as plastic-free. This is because it does not require chemical modifications or petrol-based coatings to achieve grease and moisture resistance, instead using natural polymers found in seaweed.
The packaging can also be recycled in existing paper streams or composted at home, Notpla states. In the Netherlands, vendors are expected to make use of Notpla to negate the need to charge their customers under the country's new plastic tax; it is also set to benefit businesses that cannot take advantage of reuse schemes for reasons such as hygiene, as they can still phase plastic out of their packaging.
Now Notpla has entered a strategic partnership with Conpax to distribute certified plastic-free food packaging. This is hoped to prevent 15 million items of single-use plastic packaging from being produced in the Netherlands.
"We are thrilled to have our seaweed-based coating recognized as fully compliant with the EU SUPD, and being the first to pass the most rigorous assessments in Europe, through the ILT analysis," said Pierre-Paslier, co-founder of Notpla. "This sets Notpla apart and aligns perfectly with our mission to reduce society's dependence on plastic. We look forward to helping Dutch restaurant owners meet their plastic reduction goals."
Roy Suiskens, director of Conpax, added: "We are very pleased with the cooperation between Notpla and Conpax as it ensures the availability of unique seaweed-coated folding carton products in the Benelux. From our own facilities in the Netherlands we will design, manufacture and supply new sustainable single-use products made from Notpla coated board and distribute this to the BENELUX market who are calling out for this exact solution."
From January 2024, Notpla's food packaging will be available to foodservice businesses and the wider industry.
Notpla was recently awarded access to multifaceted networks, leading insights, and brand collaborators as a recipient of the TOM FORD Plastic Innovation Accelerator programme, which hopes to accelerate the implementation of seaweed-based alternatives to thin-film.
It has also secured a listing with Bidfood Catering Supplies to provide foodservice customers with its seaweed-coated takeaway food boxes.
If you liked this article, you might also enjoy:
The L'Oréal approach to packaging sustainability
What steps is Apple taking to make its packaging more sustainable?
How did Brazil achieve its 100% aluminium can recycling rate – and can it be replicated in the EU?
Experts have their say on the EU's Packaging and Packaging Waste Directive revisions
Also, if you're interested in packaging sustainability, you will want to attend our Sustainable Packaging Summit in Amsterdam on 14-15 November. The Summit brings together leaders and pioneers from across the industry to align strategically, learn, network, and create a critical mass to accelerate change. You can learn more by clicking here, and you can buy a ticket to attend here.