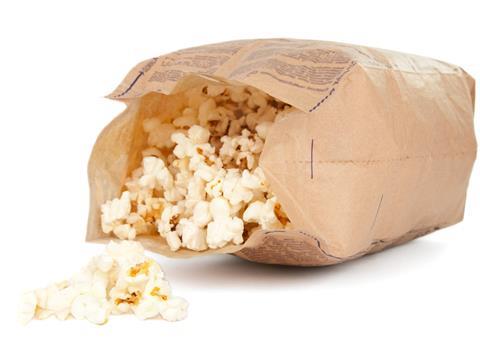 Ahlstrom has developed its FluoroFree greaseproof technology to achieve grease resistance in its fibre-based food packaging for pet food, popcorn, and quick service restaurant applications.
FluoroFree papers are reportedly manufactured without the use of fluorochemicals (PFAS) and are said to meet FDA and EU requirements for direct food contact, as well as being certified as recyclable according to EN 13430. They are also certified as compostable by the Biodegradable Products Institute (BPI) and biodegradable and suitable for home and industrial composting according to EN 13432.
The papers are designed to serve as an alternative material to films and foils with increased sustainability benefits. Ahlstrom has now applied its FluoroFree technology to its multi-wall, fibre-based PawPrint pet food packaging paper line; its Tempera Microwave Popcorn papers; and its Servera Quick Service Restaurant products.
"We have been on a continuous development journey of our proprietary FluoroFree family of grease-resistant products for more than a decade, and we continue to push the boundaries on grease-resistance capabilities," said Travis Dahlke, vice president of Ahlstrom's North American Food Packaging business. "We have now proven our expertise, commercialising products that demand the highest grease-resistance in food packaging."
"We truly were at the forefront of not only anticipating the movement away from traditionally used PFAS chemicals in the packaging industry, but we have worked directly with the sustainability community and brand owners to act on these changes even before the marketplace demanded such change," added Mark Ushpol, executive vice president of Ahlstrom's Food & Consumer Packaging Division. "This has now positioned us to develop these next generations of sustainable, grease-resistant barrier properties well-ahead of rest of the industry."
At the end of last year, Notpla unveiled its new range of plastic-free, seaweed-coated packaging formats with grease and water-resistant features. These are designed to be recycled or home-composted after use.
Similarly, UPM Specialty Papers' Confidio and Confidio Pro designs are compatible with heat sealing and resistant to both moisture and grease.