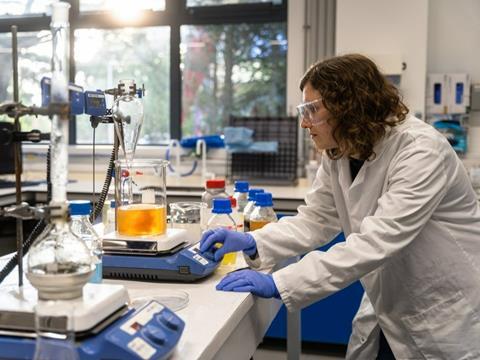 Kelpi has been granted over £3 million in seed funding to contribute towards the development of its seaweed-based biomaterial coatings for recyclable and home-compostable packaging in the food, drink, and cosmetics sectors.
Innovate UK's Combined Investor Partnership programme, delivered by SETsquared, has provided £665,000 of grant funding for the overall seed round. Kelpi's round was reportedly led by Science Creates Ventures and Green Angel Syndicate; One Planet Capital provided its funding, with follow-on investment from Bristol Private Equity Club (BPEC) and private angel investors.
With its barriers thought to provide resistance from water, oxygen, grease, and acid, Kelpi states that it has already been working with global leaders in the food, drink, and cosmetics industries. Seaweed does not require fertilisers, land, or fresh water to grow, the company explains, and absorbs carbon as it grows.
As such, the benefits of industrialising seaweed-based solutions are thought to include the deacidification and deoxygenation of the ocean, as well as providing a source of carbohydrates for biomaterials and saving valuable resources.
Kelpi now intends to use its seed funding to pilot the manufacture of its proprietary coatings for paper- and card-based packaging. It is hoped that the wider use of coatings made from seaweed will lead to enhanced performance in comparison to those made using fossil fuel plastics, and that it will enable the packaging industry to bring renewably sourced, marine-safe, recyclable and compostable materials to market.
"This landmark investment enables Kelpi to scale up our pioneering work using seaweed to create bioplastic packaging with the barrier properties required by clients," said Neil Morris, CEO and co-founder. "Kelpi can now play a key role in eliminating plastic pollution and ending our dependence on fossil fuels to create single-use packaging.
"We're delighted to receive this backing from specialist deep science and sustainability investors like Science Creates Ventures and Green Angel Syndicate to allow us to accelerate our pioneering work with major food and drink companies worldwide to prove our materials at scale."
"Kelpi stood out to us as a strong combination of world-leading scientific innovation with deep entrepreneurial experience," continued Dr. Catherine Fletcher, principal of Science Creates Ventures. "They're using deep tech to address a highly valuable commercial challenge and we're excited to be backing the company to scale up its solutions in the vital area of reducing fossil fuel dependence in plastics."
"Our network of specialist members was impressed with Kelpi's team and technology, and their pioneering approach to developing biopolymers from renewable feedstocks like seaweed," added Cam Ross, CEO of Green Angel Syndicate. "At scale, the Kelpi approach will play a vital role in reducing fossil fuel dependency, addressing climate change and impacting on plastic pollution."
Notpla's grease- and water-resistant packaging formats also feature a plastic-free, seaweed-based barrier. This is thought to enable the pack to be home-composted or recycled at end of life.
Additionally, FlexSea reached the finals of the Sustainability Awards 2022 with its own seaweed-based biomaterials for flexible packaging solutions.