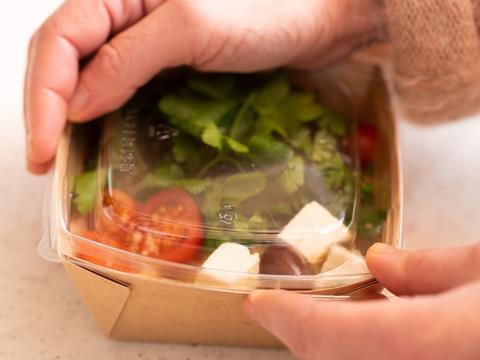 Sabert Corporation Europe has released its Snap2Go tray for chilled meals and food-to-go outlets, featuring an anti-fog, high-visibility rPET clip-lid and claiming to be fully recyclable.
Available in 375ml, 500ml, 750ml, and 1000ml sizes, the tray is apparently refrigerator-friendly, stackable, and nestable thanks to its space-saving design and rigid construction. Its webbed-corner design is thought to offer resistance to grease, moisture, and leakage, making it compatible with a range of food-to-go products.
Furthermore, it is designed to be easy to hold, with consumers reportedly able to close the pack with one hand. Its clip-lid is available in two different sizes and fastens to internal tabs in a push-and-click motion designed for simplicity, with consumers reportedly able to close the pack with one hand.
Sourced from FSC-certified paper and high-grade, post-consumer PET flake bottles, respectively, the tray's paperboard base and rPET lid claim to be fully recyclable. As such, each Snap2Go features the printed message "Let's meet again. Recycle me."
Sabert also provides brand owners with bespoke designs and sizes and fully customisable print, allowing for individualised logos and messages to be printed onto the pack.
"We are sure that the sleek design and innovative clip-lid fit of our new paper Snap2Go range will surprise many people," says Clive Pickerill, UK&I sales manager at Sabert. "The Snap2Go tray combines an aesthetic and minimal design with maximum functionality, plus great visibility thanks to its innovative clear rPET lid.
"Snap2Go is multifunctional and easy to use for both operators and consumers," adds Sabert's UK&I MD, Alex Noake. "Fully recyclable, the innovative secure rPET clip-lid not only protects food, but also delivers on our promise to make food look great!"
Faerch recently worked with Tesco to found a PET recycling initiative and implement recovered and recycled food trays back into the retailer's chilled ready meal packaging.
Meanwhile, Notpla has secured a listing with Bidfood Catering Supplies to sell its seaweed-coated takeaway food boxes to customers through the Bidfood Direct wholesale platform; and Greiner Packaging, Engel, and Brink's thin-walled rPET cup can apparently be produced using injection moulding technology and is thought to lessen CO2 equivalent emissions.
If you liked this article, you might also enjoy:
McDonald's Director of Sustainability in Europe on the company's approach to packaging sustainability
McKinsey on whether or not on-pack sustainability claims affect consumer spending
Perspectives from industry-leading experts on the EU's Packaging and Packaging Waste Directive revisions
A deep dive into the most important packaging sustainability trends and solutions