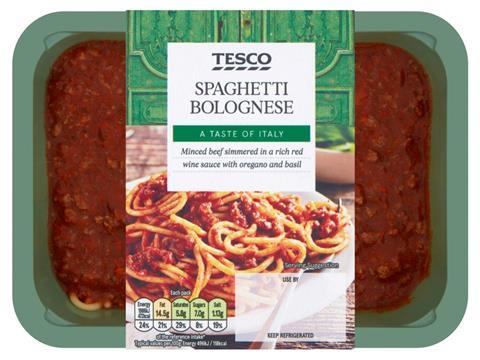 Tesco is set to incorporate recovered and recycled plastic food trays back into its chilled ready meal packaging through a PET recycling initiative developed alongside Faerch.
According to the retailer, its ready meal trays already contain up to 75% recycled content – largely sourced from bottle flake, as it is apparently cleaner and easier to recycle. The Tray 2 Tray programme, developed collaboratively in 2021, is now enabling Tesco to implement 30% recycled tray content – collected from European kerbside waste – into the food-grade packaging in a bid to achieve full circularity.
With a phased rollout set to begin this month, the collaboration hopes to keep high-quality, food-grade PET within the supply chain, prevent downcycling, and contribute towards the industrial-scale recovery and recycling of PET tray packaging.
"We are determined to close the loop on our packaging – for it to be fully recyclable and contain recycled content wherever possible," said Adele Kearns, packaging development manager at Tesco. "We remain committed to reducing our environmental impact, and helping our customers to do the same, as we work together to protect our planet."
"We're delighted to launch our Tray 2 Tray by Faerch programme with Tesco, an essential initiative that promotes circular food packaging in the economy, and we are committed to working with our customers to keep rigid food packaging in the economy and out of the environment," added Ruth Price, strategic sales manager at Faerch UK. "Our collaboration with Tesco is the perfect example of how material from EU waste resources can be diverted into a valuable commodity. Moving forward, our intention is to not only increase the level of tray-to-tray content but to also start taking this from local UK feedstocks."
In a similar development, Tesco is aiming to sell its fresh fish in trays containing at least 30% recycled coastal plastic in a partnership with Keep Sea Blue.
Sainsbury's has also removed single-use plastic trays from its own-brand whole chicken range in a move hoping to save 140 tonnes of plastic every year. However, the retailer has come under fire on social media for replacing the tray packaging of its beef mince with vacuum packs, as the new design cannot be recycled at kerbside and is apparently impacting the quality of the product.
If you liked this article, you might also enjoy:
McDonald's Director of Sustainability in Europe on the company's approach to packaging sustainability
McKinsey on whether or not on-pack sustainability claims affect consumer spending
Perspectives from industry-leading experts on the EU's Packaging and Packaging Waste Directive revisions
A deep dive into the most important packaging sustainability trends and solutions