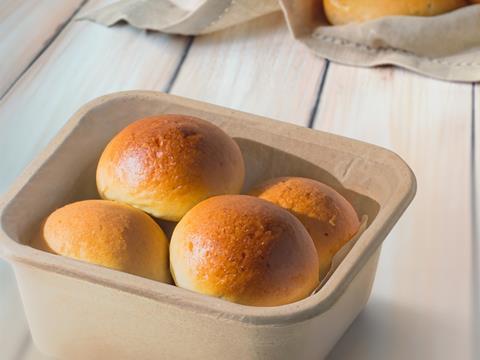 TIPA has converted rice waste into a tray designed for recyclability and home compostability – intended as an alternative to plastic and paper food packaging in line with upcoming restrictions on takeaway containers.
Set to package such products as fruits, vegetables, baked goods, and hot foods, the tray is made of pulp and can be disposed of via paper recycling streams or home compost bins. It is expected to cut down on emissions from burning agricultural waste and integrate seamlessly into local waste management systems.
Furthermore, the bio-based solution is reportedly GM-free and, due to its natural colour and texture, it is set to provide an 'organic touch' and visual appeal to customers' product packaging. TIPA adds that the pack provides an extended shelf life, durability, and high performance.
As an alternative to both traditional plastic packaging and paper bags, the pack responds to a ban on polystyrene takeaway containers in England, Scotland, and now Wales. According to TIPA, the tray is intended as an environmentally conscious alternative for businesses to adhere to the new rules – thought to be capable of storing hot meals for up to 48 hours while fully decomposing at end-of-life.
The tray can now be purchased in the UK, Europe, USA, and Australia.
Daphna Nissenbaum, CEO and co-founder of TIPA, commented: "TIPA is focused on delivering innovative solutions to the plastic packaging crisis and our new product sets a benchmark for sustainability, combining both recyclability and composability.
"The new paddy straw tray gives incomes to farmers for agricultural waste, boosting the economy in communities who need it the most. Our new packaging gives brands surety by avoiding plastic packaging bans whilst being ethically resourced and sustainable."
TIPA is a member of the UK's Compostable Coalition alongside Tesco, M&S, WWF, and Ocado. It recently partnered with Ispak, setting its sights on bringing compostable packaging to the Turkish market and overcoming plastic pollution.
Last year's Sustainability Awards saw Green Monday nominated as a finalist in the Renewable Materials category for its Omnifoods Home Compostable Trays made of sugarcane bagasse and bamboo fibre.
Meanwhile, Holmen Iggesund has revealed a 30-gsm version of its fibre-based, PET-coated ready-made meal trays; these are designed to remove over 25% of plastic content from its previous design.
If you liked this article, you might also enjoy:
The L'Oréal approach to packaging sustainability
What steps is Apple taking to make its packaging more sustainable?
How did Brazil achieve its 100% aluminium can recycling rate – and can it be replicated in the EU?
Experts have their say on the EU's Packaging and Packaging Waste Directive revisions
Also, if you're interested in packaging sustainability, you will want to attend our Sustainable Packaging Summit in Amsterdam on 14-15 November. The Summit brings together leaders and pioneers from across the industry to align strategically, learn, network, and create a critical mass to accelerate change. You can learn more by clicking here, and you can buy a ticket to attend here.