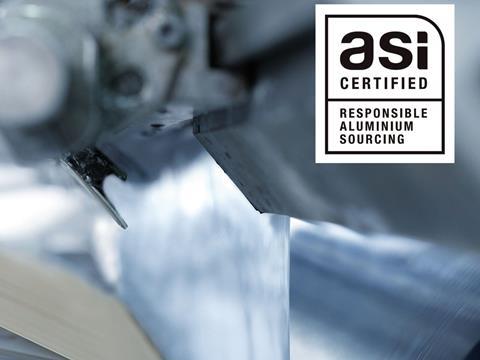 SIG reports that 100% of the aluminium used in its aseptic carton packs will be certified through the Aluminium Stewardship Initiative (ASI) in a bid to reduce its production-related carbon emissions and achieve efficiency within its supply chains.
The company states that, although it has been developing metal-free solutions for its aseptic cartons, these are not yet available in all formats and other packs must maintain their thin aluminium layers for food protection purposes.
As such, it hopes to utilise ASI certification to ensure that its aluminium is produced and sourced responsibly – involving limitations on carbon emissions in the production process, amongst other environmental, ethical, and social causes.
Any SIG aseptic carton pack can now display the ASI label to indicate that its aluminium lining has been responsibly sourced, it is said. SIG hopes that requiring its aluminium suppliers to adhere to ASI standards will lower the carbon footprint of its own and its customers' value chains.
"Achieving 100% ASI-certified aluminium for SIG aseptic carton packs marks another industry first from SIG and a significant milestone on the Way Beyond Good," said Ian Wood, chief technology officer at SIG. "100% of our liquid packaging board is already purchased with FSC certification since 2021 and now we are continuing to deliver on our responsible sourcing ambitions by purchasing 100% ASI-certified aluminium.
"Customers can now include the ASI label, as well as the FSC label, on any SIG pack to show consumers these materials are sourced responsibly."
Dr. Fiona Solomon, CEO at ASI, added: "SIG was one of the first companies in the world to achieve certification to ASI's Chain of Custody and Performance Standards. To now reach 100% ASI certification for all its aluminium suppliers is a great achievement that is supporting ongoing improvements in the aluminium supply chain. The option for on-pack ASI labelling also offers a further opportunity to spread the message about responsible aluminium production and sourcing to consumers."
New customers or existing customers that launch new SKUs or change their packaging designs will be the first to receive the ASI-certified aluminium foil, says SIG.
The company previously became the first in the industry to offer ASI-certified aluminium to its customers in 2019, and announced that all of its European packs would contain responsibly-sourced aluminium in 2020.
On a wider scale, aluminium producers Alcoa, Rio Tinto and Emirates Global Aluminium (EGA) were amongst 200 industry leaders expressing their support for the Mission Possible Partnership's strategies to decarbonise the aviation, trucking, shipping, and steel industries within the decade.