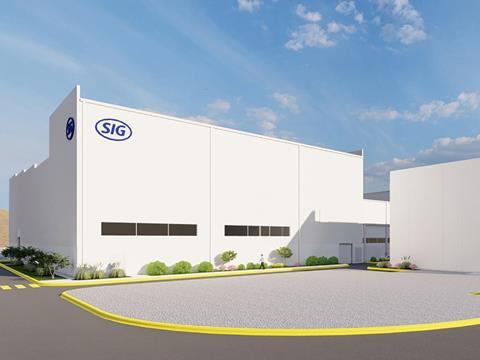 SIG has announced its €60 million investment into the construction of its first aseptic carton plant in India over the next two years – with the plant expected to reach a production capacity of 4 billion packs per annum.
India is home to the largest milk market in the world, as well as being one the largest producers of juice across the globe, according to SIG. As such, the company entered the Indian market in 2018 and has since reported an expansion in its business.
With the new plant, based in Ahmedabad, expected to supply its growing filler base for dairy and non-carbonated soft drinks companies, the investment is anticipated to cover state-of-the-art production capacity for the printing and finishing of aseptic carton packs. It is hoped that subsequent investments could drive the capacity as high as 10 billion packs per annum, with land and buildings financed through a long-term lease with an NPV of approximately €30 million.
Construction is set to begin in the first quarter of 2023, and SIG believes that the first phase will create around 300 jobs. The commencement of commercial production is scheduled for the end of 2024.
"India is fast becoming the world's most populous country and has a very low per capita consumption of entry-level packaged food and beverage goods," said Angela Lu, president and general manager Asia-Pacific South at SIG. "Since entering the market five years ago we have grown exponentially.
"We are looking forward to further expanding our presence and driving our market share. An established local infrastructure will allow us to fast-track innovations and build strong and long-lasting partnerships with our customers."
"We are thrilled to announced that soon we will have locally produced Made in India aseptic carton packs," added Vandana Tandan, head of Markets for India and Bangladesh at SIG. "With this plant, we will be able to further develop the range of products available to Indian consumers. Our long shelf-life packaging increases access to vital nutrition and avoids food waste through an array of sizes to suit all consumption occasions at affordable price points."
SIG recently stated that 100% of the aluminium used in its aseptic carton packs would be ASI-certified; this is expected to contribute to the company's aim of reducing the carbon emissions generated in production and maximise the efficiency of its supply chains.
A joint venture agreement between Constantia Flexibles, Premji Invest, and S.B. Packagings is also anticipating the creation of value in the Indian market and the expansion of business and operations in various packaging sectors.
More broadly, India's Ministry of Environment, Forest and Climate Change previously announced a ban on certain single-use plastics such as cutlery, trays, straws, and carrier backs, effective from 1st July 2022.