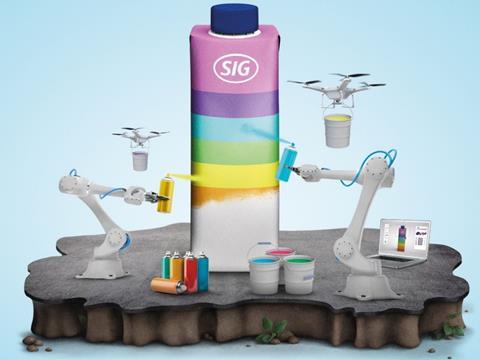 SIG is introducing SIG Digital Printing for its aseptic carton packs, which is set to enable fast, flexible, full-colour digital printing without the need for cylinders or printing forms.
Such speed and agility are expected to be beneficial to the food and beverage industries, for example, and meet heightened demand for packaging where the life cycles of designs are shrinking. Lot sizes and promotions are also said to be decreasing due to frequent product launches, growing portfolios, and ambitious marketing campaigns, leading to an increased interest in a fast turnaround.
Designed to complement SIG's existing rotogravure printing, the new technology features a RotaJET 168 Digital Printing Machine built by Koenig & Bauer. Reportedly, SIG Digital Printing is well-suited for SKUs with lower quantities, and its compatibility with frequent modifications and updates allows for quick and easy packaging redesigns, according to the company – a benefit that is thought to facilitate regular promotional activity and keep customers' branding current.
Commercial production using the digital printing machine is expected to commence in the latter half of 2023 at SIG's production facility in Linnich, Germany.
"Our aim is to always ensure our customers have the best choice and access to latest technologies and solutions that keep them at the cutting edge of innovation today and in the future – designed to their needs," explains Holger Schmidt, head of Product Management Technology at SIG. "Small-scale production will make it possible for our customers to be creative with design changes and to test out product ideas in the market with reduced risks. Speed, flexibility, and precise product design are decisive factors for success, and this is exactly what we offer with our digital printing solutions."
Christoph Müller, CEO Segment Digital & Webfed and member of the Executive Board Koenig & Bauer AG, adds: "Like SIG, we always have the requirements of tomorrow in mind so we can shape the future alongside our customers. It's exciting to see SIG Digital Printing for aseptic carton packs come to fruition and how this new technology will bring a valuable addition to their printing portfolio by providing a streamlined design editing option, as well as the possibility of speeding up their design-to-print process."
Fujifilm Graphic Communications and HYBRID Software previously unveiled the Jet Press FP790 digital inkjet flexible packaging solution, which features a Smart Digital Front End and unified workflow solution for maximum output and productivity. It is also designed to incorporate water-based inks for a more sustainable printing process.
Meanwhile, Fujifilm's portfolio of digital and analogue printed packaging solutions, as well as TSC Printatronix Auto ID's asset tracking and identification solutions – including the PEX-2000 6-inch print engine – will be showcased at interpack 2023.
Earlier this year, SIG reported that its carton packs now utilise 100% ASI-certified aluminium in a move set to optimise supply chain efficiency and contribute towards the decarbonisation of its production processes.