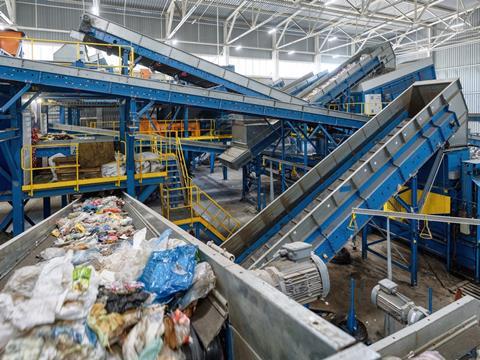 Plastics Recyclers Europe has warned that plastic recycling companies could be driven out of business by skyrocketing energy prices, with energy reportedly now representing up to 70% of operational costs.
According to the organisation, plastic recycling facilities run 24 hours, 7 days a week, which means that energy utilities are among the three major cost factors after labour and maintenance. Energy typically represents 15-20% of total operational costs for plastic recyclers.
However, Plastics Recyclers Europe says that, in line with a 400% increase in prices in Europe, energy costs have become the number one expenditure for plastic recyclers, apparently now representing up to 70% of their operational expenditure. The organisation claims that this makes it nearly impossible for recycling companies to break even and warns that without intervention from the European Commission and the EU Member States, many companies may have to close.
In Italy, for example, Assorimap, the National Association of companies that recycle plastics, has announced that 40% of recycling activities have been suspended due to unsustainable energy costs. The Association is renewing calls on the Italian government for urgent intervention.
Plastics Recyclers Europe adds that the energy crisis could put the transition towards a circular economy in Europe at risk. Fluctuations in energy prices undermine recent EU policy and global developments that have boosted investment in plastic recycling capacities in Europe, according to the organisation.
As such, the organisation cautions that there could be "disastrous implications" for the European recycling industry as a result of high energy prices. The organisation says this could have ripple effects on the EU's low-carbon economy targets for 2050, as it argues recycling has the lowest carbon footprint compared to other waste management options like incineration and landfill.
Ton Emans, president of Plastics Recyclers Europe, comments: "Stopping the recycling activities will have an immediate, negative impact on the plastic waste management in Europe.
"If we want to drive a circular economy in Europe, plastic recycling must be considered a key industry sector to be targeted by Member States' efforts to protect from the impact of high electricity prices."
Earlier this year, Plastics Recyclers Europe reported that the total installed plastics recycling capacity in Europe increased by 1.1MT in 2020, representing a 13% rise from the previous year. However, the organisation has also warned that the availability of sorted plastic waste is currently low enough to be negatively impacting the operations of plastic recyclers across Europe. ICIS suggests that rising energy and transport costs are also playing a role in this issue, potentially leading to as much as a 70% year-on-year increase in the cost of collecting, sorting, and recycling waste.
European Plastics Convertors (EuPC) has also released a statement warning that the surge in energy prices will negatively impact conversion in Europe, warning that some companies are considering a halt in operations. The organisation is calling on the EU to push for short-term solutions to the energy crisis.