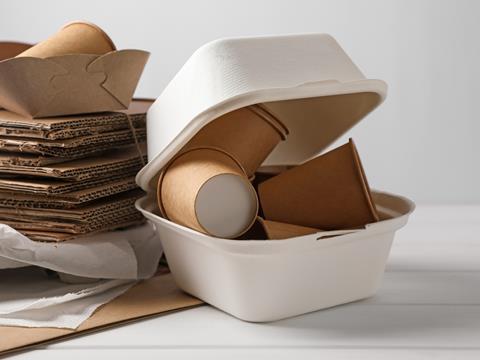 Trinseo and RWDC Industries LLC have entered an exclusive agreement to bring PHA dispersion technology to target markets and advance the development of sustainability-minded paper and board barrier coatings.
The partners intend to meet rising demand for more sustainable alternatives to extruded polyethylene laminates, fibre processing with fluorochemicals, and other non-recyclable packaging materials and chemistries. PHA dispersion technology is hoped to result in water-based barrier coatings that can be composted, recycled in traditional paper processes, or biodegraded in soil and marine environments.
"We are constantly striving to refine our product portfolio to deliver innovative, customer-centric products that solve material challenges with tailored, sustainable solutions," said Andre Hugentobler, Global New Business Development and Technology & Innovation Director, Latex Binders, Trinseo. "Our partnership with RWDC is a perfect example of a combined approach that allows both partners to focus on what they do best and jointly deliver technical solutions that will benefit our customers and the markets they serve."
"Our new partnership with Trinseo is a critical step in our journey to bring Solon PHA forward as an innovative material solution for an application that has high-performance requirements while being environmentally safe," added Blake Lindsey, chief commercial officer at RWDC Industries. "This is an exciting time for RWDC, and we are pleased to be working alongside global leaders like Trinseo to bring both best- and first-in-class materials to the marketplace."
Siegwerk's UniNATURE Water-Oil Barrier Coating was recently certified for use on single-use paper plates. The company anticipates that it will facilitate circularity for fibre-based resources.
Meanwhile, two recyclable, heat-sealable barrier paper solutions for food and non-food packaging applications were exhibited by Henkel and UPM Specialty Papers at interpack 2023; and in our recent report covering sustainability trends and solutions in packaging, we identified Stora Enso's Cupforma Natura Aqua + material, which features a double-sided, water-based dispersion to replace the traditional plastic layer and can be converted into paper cup lids.
If you liked this article, you might also enjoy:
McDonald's Director of Sustainability in Europe on the company's approach to packaging sustainability
McKinsey on whether or not on-pack sustainability claims affect consumer spending
Perspectives from industry-leading experts on the EU's Packaging and Packaging Waste Directive revisions
A deep dive into the most important packaging sustainability trends and solutions