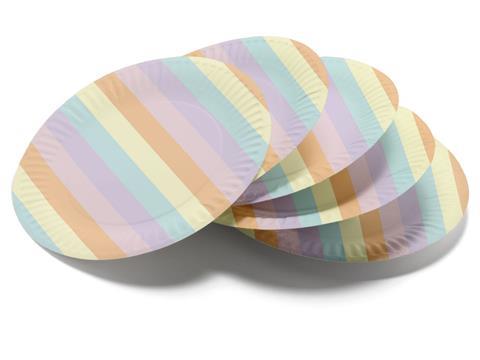 Siegwerk has announced that its UniNATURE Water-Oil Barrier Coating has been successfully certified for single-use paper plates, and now hopes that the solution will keep fibre-based resources in the loop to facilitate a circular economy.
According to testing conducted in January 2023, the solution effectively meets the standards of oil and grease resistance according to TAPPI T559 alongside some liquid resistance in adherence to the COBB method. Siegwerk states that the solution is the first of its kind to be certified for such features in a direct food contact application.
These features, in combination with its 100% natural content, result in a suitable alternative for single-use paper plates in accordance with such legislation as the Single Use Plastics Directive (EU 2019/904), according to Siegwerk.
Plates featuring the Water-Oil Barrier Coating are expected to be recycled through existing paper streams while ensuring that the product is functional, food-safe, and minimises the use of valuable resources. The natural minerals featured in the barrier coatings are also expected to result in biodegradable packaging, preventing bioaccumulation and the leaking of microplastics into the environment.
The coating is not thought to require a primer, as it can function as a standalone barrier coating in single or multiple layers – a feature said to make it compatible with all standard water-based printing processes and machines. It is also suitable as an Over-Print Varnish for Siegwerk's water-based ink systems.
"Paper packaging with barrier requirements often uses coated or laminated materials, which not only make the packaging hard to recycle, but also lead to further environmental problems for example due to microplastics or persistent chemicals," explains Anna Maier, head of Global WB Coatings Technology Platform at Siegwerk. "Here, the use of sustainable barrier coatings can help to replace these hard-to-recycle paper laminates and thus help keep valuable resources in a circular economy."
"UniNATURE Water-Oil Barrier Coating is another proof of how inks and coatings add functional properties to renewable materials like paper, enabling their use for an even wider range of packaging applications and thus paving the way for new mono-material structures in the sense of a Circular Economy," adds Alina Marm, head of Global Sustainability & Circular Economy.
Siegwerk's UniNATURE packaging inks were shortlisted under the 'Renewable Materials' category at the Sustainability Awards 2022. It was later named the winner of this category, as well as the overall winner of the 'Most Sustainable Innovation' award.
This year, Mondi has expanded its FunctionalBarrier paper-based packaging range in a bid to provide a recyclable substitute for unrecyclable plastic laminates and multi-material, aluminium-based packaging alternatives.
WACKER will also display its VINNOL L-6868 polymer resin binder at this year's European Coatings Show. The solution is expected to formulate wood, paper, film, and solvent-borne coatings and is reportedly compatible with food-contact packaging.